Forum home
›
Road cycling forum
›
Pro race
La Vuelta 2020 - Stage 17: Sequeros > Alto de La Covatilla - 178,2 km *Spoilers*

blazing_saddles
Posts: 21,534
Stage 17: Sequeros > Alto de La Covatilla - 178,2 km
Saturday 7 November, 11.10 GMT.
La Vuelta serves the last chance to move up on GC in a race from Sequero to skistation La Covatilla. So, a A GC stage on paper, though again Jumbo won't care if the break wins. But the stage is not as hard as the previous weekend.
Five intermediate climbs are to function as demolition workers before the last 9.8 kilometres go up at 7.1%. La Covatilla is a ski resort at an altitude of 1,962 metres, located 220 kilometres west of Madrid. Two years ago Ben King soloed to victory after attacking with Enric Mas inside the last 20 kilometres. La Covatilla hosted La Vuelta on five occasions. The other winners being Dan Martin (2011), Danilo di Luca (2006), Félix Cárdenas (2004) and Santi Blanco (2002).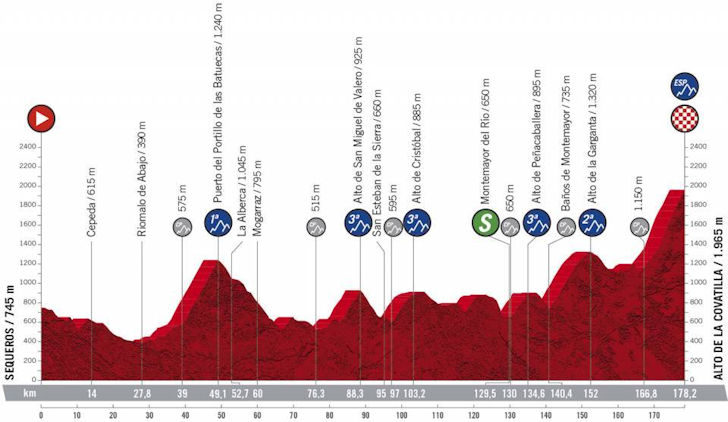 But the actual finish climb in itself is not the tricky part, the preceding climbing metres are. The race serves five ascents before the ultimate haul up finally kicks in. Three are GPM 3, these are the other two.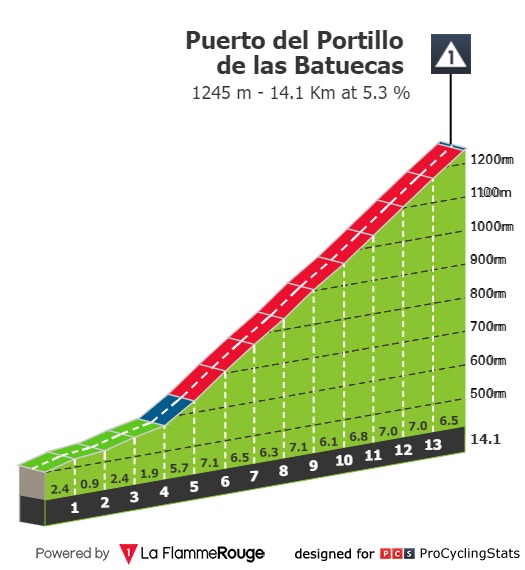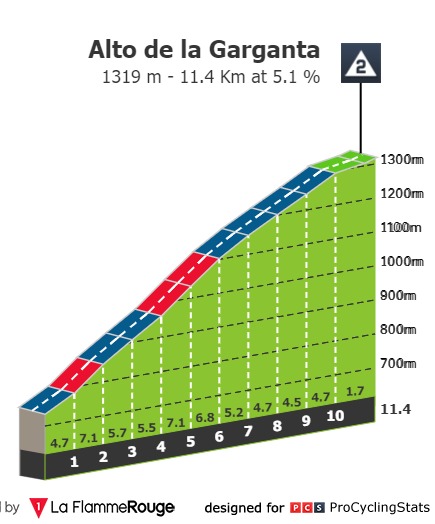 The official distance of the Covatilla climb is 9.8 kilometres with an average gradient of 7.1%, which is really just scratching the surface. The finish climb rises multiple times at double digit gradients. The riders tackle the last 10% ramp with the flamme rouge flying over their head before the climb flattens out. The last 900 metres goes up at around 4%.
For some reason, the official site does not include the climb's profile.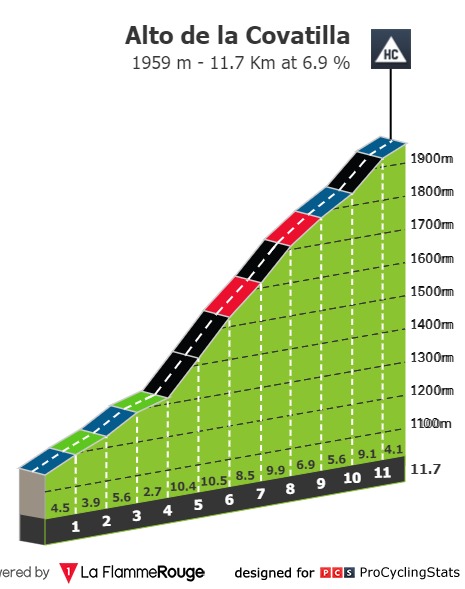 Sequeros
Unprecedented departure
239 inhabitants
Despite its modest population and area, Sequeros knows how to showcase its assets. Located right in the Francia Mountain Range, the municipality has a privileged setting, featuring lush nature and an enviable altitude, making it an excellent viewpoint for nature lovers. A self-proclaimed "stress-free territory", Sequeros honours its title and aims to be a favoured destination among those living in the centre of Spain who are in search of a calm, peaceful destination where they can switch off.
Alto de La Covatilla
5 stages of La Vuelta have had finales in La Covatilla
12.961 inhabitants
La Covatilla was one of the key stages of La Vuelta 18 due to its challenging nature, its beauty and its relevance in the fight for the GC (Simon Yates wore La Roja on its peak for the first time). The race's previous ride through Candelario, a beautiful Salamanca village with cobblestone streets, provided some of that edition's most memorable images. In 2020, La Vuelta will once again ride through Candelario after climbing the unprecedented La Garganta mountain pass; ending at La Covatilla where the winner of La Vuelta will be decided. Undoubtedly all the necessary ingredients for a historical stage.
Hinojosa de Duero
The dry, cool air of the region's highlands provide Salamanca with fantastic cheeses- the most popular is called "hinojosa de duero"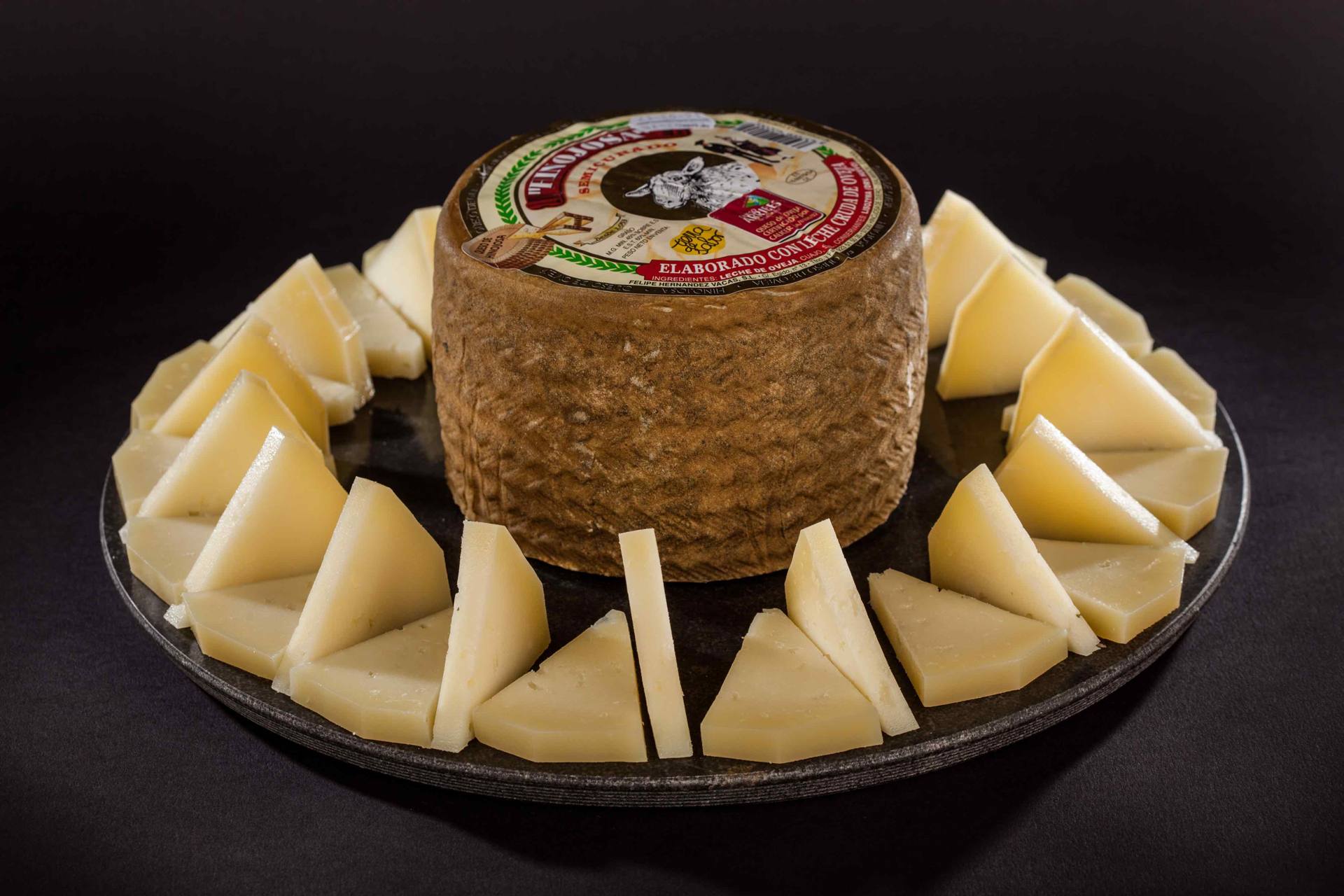 Sierra de Salamanca
Salamanca Sweets
Many, if not most Spanish desserts boast ingredients like almonds and honey, whose integration into Spanish recipes are almost entirely thanks to the Moors. In Salamanca, the list of sweets is practically endless, but amongst those that stand out are "amarguillos" (almond cookies),
"mazapan" (marzipan), "bollo maimón" (similar to sponge cake),
and "chochos" (made with anisette).
"Science is a tool for cheaters". An anonymous French PE teacher.