Forum home
›
Road cycling forum
›
Pro race
La Vuelta 2019, Stage 9: Andorra la Vella > Cortals d'Encamp 01/09/2019 - 94,4 km *Spoilers*

blazing_saddles
Posts: 20,520
La Vuelta 2019, Stage 9: Andorra la Vella > Cortals d'Encamp 01/09/2019 - 94,4 km
La Vuelta's first week of action culminates in a brutally hard stage in Andorra. Five climbs in less than 100 kilometres and an off-road section just before the final haul to pep things up.
The 9th stage is the first proper mountain race of La Vuelta. Of course, we have seen a number of uphill finishes, but the stage from Andorra la Vella to Cortals d'Encamp is a mountainous test from start to finish. The route hardly features a flat metre.
It doesn't take long for the Coll d'Ordino to appear. The 8.9 kilometres climb at 5% is actually only catagorized for half it's 17km length. The riders ctually begin the climb as soon as they leave town.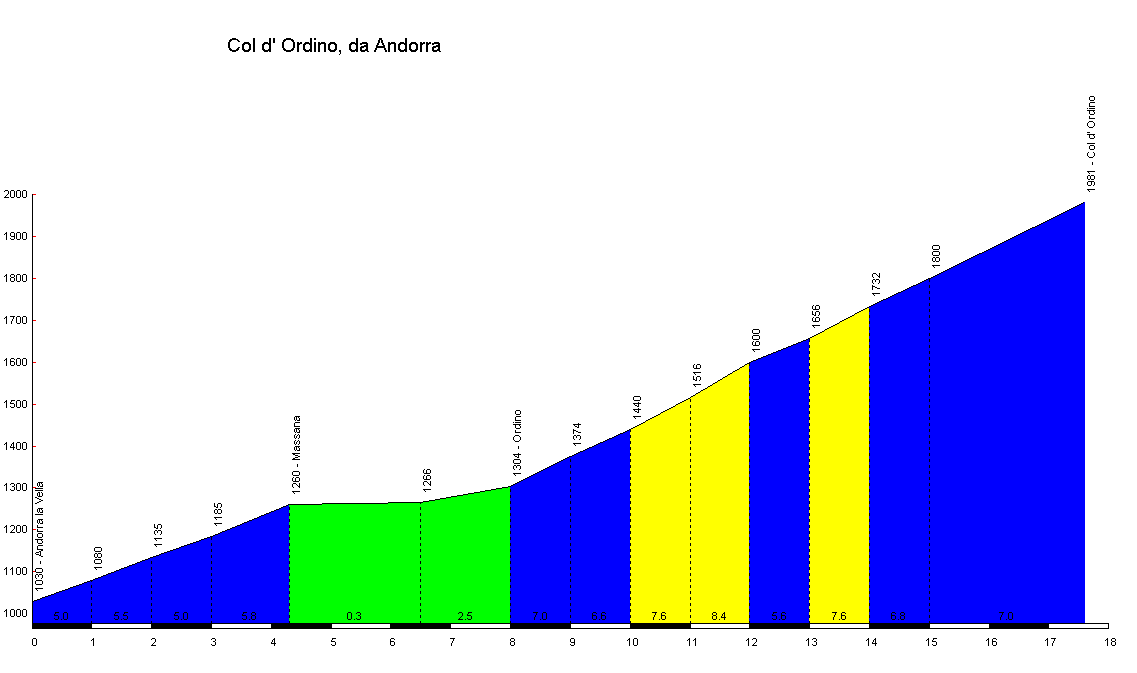 A long descent leads to the foot of the Coll de la Gallina, which is an irregular monster of 12.2 kilometres with an average gradient of 8.3%. The Gallina was the final ascent of the 2018 Vuelta, so Simon Yates sealed his overall victory on these slopes, while Enric Mas climbed to the stage win.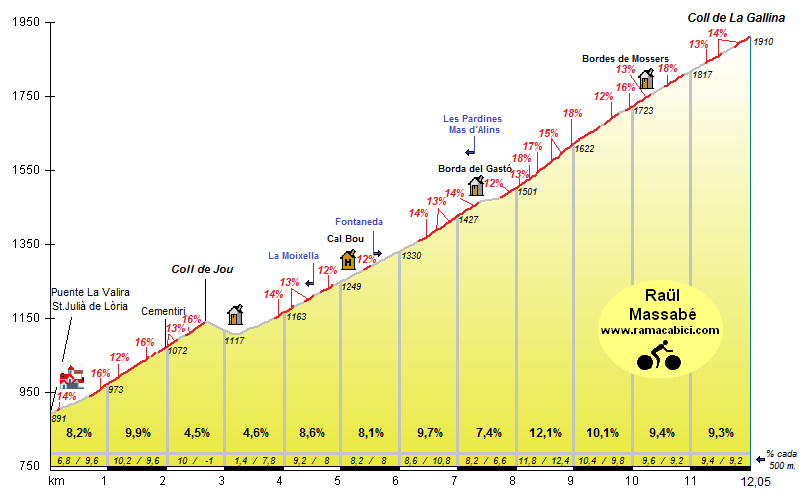 Following yet another long descent, the riders face a brutal finale with three consecutive ascents. The Puerto de Comella (4.2 kilometres at 8.6%) and Puerto de Engolasters (4.8 kilometres at 8.1%) are almost immediately followed by the Cortals d'Encamp, so it is fair to say the final haul up is a grinding task of 20 kilometres.
There is hardly any distance between the respective climbs. o pep things up, 4 kilometres on dust road precedes the final climb on Cortals d'Encamp.
The first kilometre of the Cortals d'Encamp climb goes up at 11.9% and the second slopes at 9.5%. Then the stage eases out a bit, but the average gradient of the 5.7 kilometres climb still sits at 8.3%.
La Vuelta used the Cortals d'Encamp climb for the time as a finish in 2015. Mikel Landa took the win in a long-range solo move. I was lucky enough to be on this climb, that day, waiting for Geraint and Froome, but it was the day that the Sky leader crashed in the neutral zone, breaking a bone in his foot. So, we had a long wait!
Favourites 9th stage 2019 Vuelta a España
Finally, this has to be a day where the breakaway takes a back seat on the GC men battle for real.
*** Miguel Ángel López, Nairo Quintana, Primoz Roglic
** Alejandro Valverde, Rafal Majka, Daniel Felipe Martínez
* Tadej Pogacar, Mikel Nieve, Sergio Higuita,Fabio Aru, Esteban Chaves.
Andorra la Vella
9 stages of La Vuelta have departed from Andorra la Vella
20,724 inhabitants.
Over the years, Andorra la Vella has become one of La Vuelta's favourite destinations. The capital of the Principality of Andorra lives up to its name of "la Vella"-the Old- being the city outside Spain that has most often featured in this Spanish race: a total of 15 times between starts and finishes. There will certainly be many more, as these visits to Andorra provide the race with a guaranteed spectacle and the most impressive mountain landscape.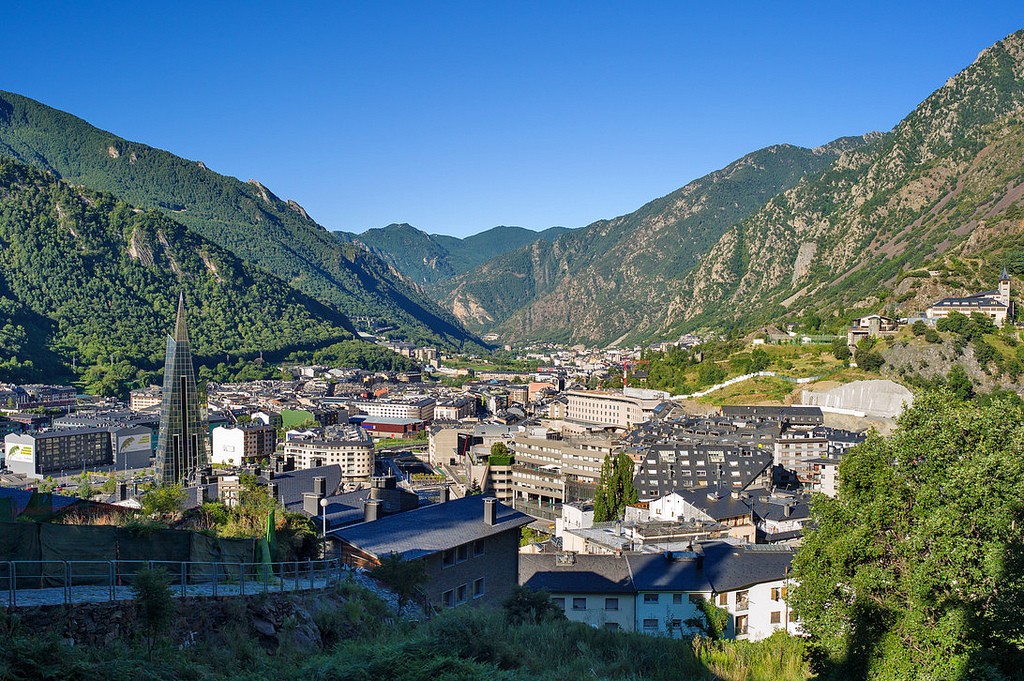 Escudella
Escudella is often referred to as Andorra's national dish. It is typically eaten in winter and on holy days, including at Christmas. It is a big hearty stew, and a particular favourite with meat-lovers.
Cargols
Snails are not only eaten in France; they are popular in Catalonia and Andorra too. There are various ways of cooking them, but one of the most typical in Andorra is cargols a la lluna, in which the snails are oven-roasted and eaten either with olive oil, salt and aioli (a garlic mayonnaise) or a paprika-infused vinaigrette.
Cortals d'Encamp
1 stage of La Vuelta have had finale in Cortals d'Encamp
10,772 inhabitants.
In 2015, La Vuelta designed, together with Joaquim 'Purito' Rodríguez, the route of one of the hardest stages in the race's history. An entire day in Andorra, raced by such famous riders as Chris Froome, Mikel Landa (who won the stage that day), Fabio Aru, 'Purito' himself, and Tom Dumoulin. Four years later, La Vuelta is returning with another climb up Cortals d'Encamp. A now legendary stage that will be accompanied this year by another climb up Engolasters, with a spectacular three-kilometre stretch along a trail linking both these mountain passes.
"Science is a tool for cheaters". An anonymous French PE teacher.