Forum home
›
Road cycling forum
›
Cyclocross
Planet X SLX (Flanders Colours)
bakerstreet
Posts: 108
This my recently purchased CX Bike. Its a Planet X SLX bike in Flanders colours.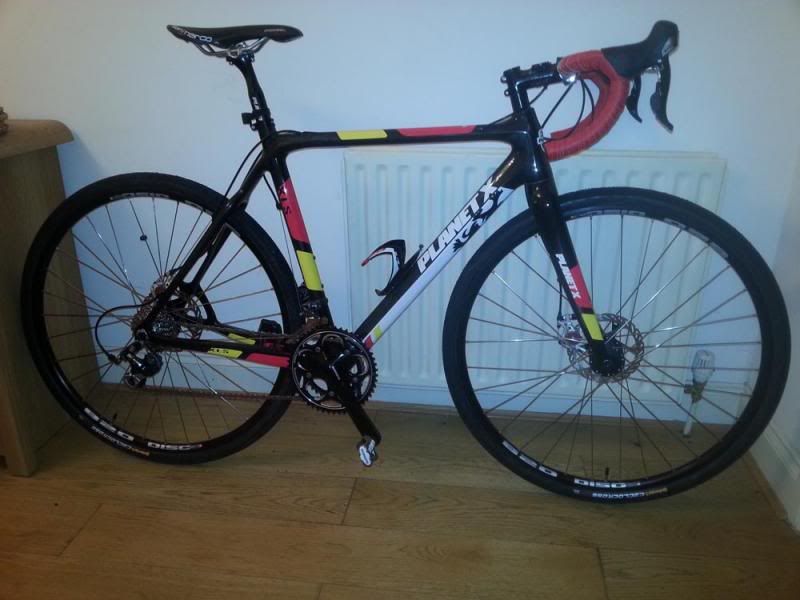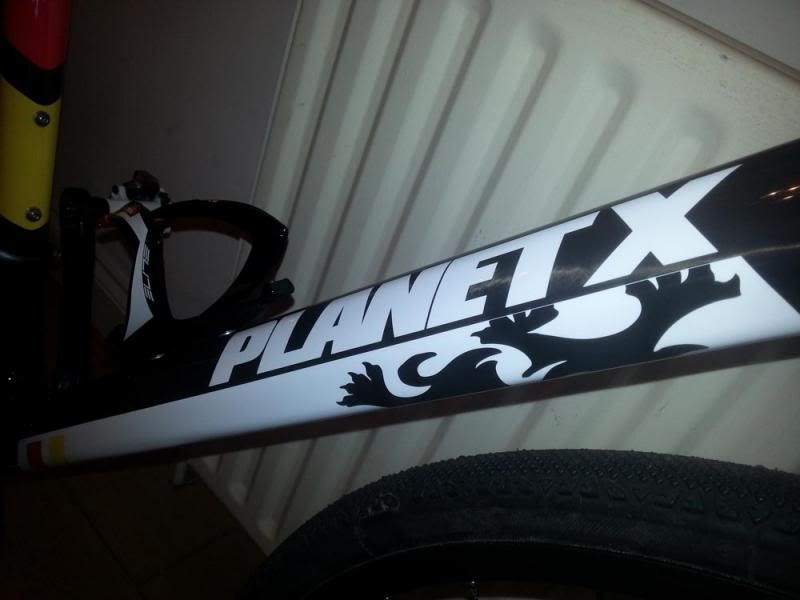 My bike is the standard bike with 105 fitted. I got the shop to add my preferred Fizik Classic bar tape. I added some Cateye light, Elite bottle cage and standard Garmin mount. The Elite bottle cage and Fizik bar tape are good colour matches IMO.
It was a long wait to get it and Planet X's reputation of poor customer service shone through out the process. I had no less than four delivery dates given to me and the bike eventually took 5 weeks to arrive. Wiggle can track my order from the day it leaves the warehouse and send me an e-mail when it has arrived, Planet X have some work to do in that department. I've written a letter to their customer service manager.
It was bought to commute and hopefully race at the end of the year. So far, I have done just over 150 miles in the week that I have owned it and I love it. Its absolutely brilliant. I wish I had bought a CX bike years ago.
My other bike is a 2010 Giant Defy 2 running SRAM Force and Shimano RS80s. It was taking a battering on the commute and I decided it was time to invest in a commuting bike and I've also fancied a go at CX racing.
The frame on PX is much stiffer than my Defy. You can certainly feel better power transfer through the peddles. Based on my limited experience with the SLX, I would definitely buy another Planet X.
The bars are bit thin for my liking, so as soon as I loose a bit more weight, I shall treat myself to some carbon bars, which are a bit thicker. Might go for the Planet X nano bar.
The 105 works, but its isn't as fast as my SRAM Force, but I was expecting that.
The cable routing at the front of the bike os pretty poor. Its all over the place! I applied a couple of pads to stop the cables rubbing the paint off the frame.
I took it on a mixture of footpaths and roads yesterday and I really enjoyed it. I was happily pedalling through a field with not a car in sight
I bought it from Planet X's distributor in St Albans in Hertfordshire. Good little shop and very knowledgeable
Plans for the future:
New wheels (current ones don't roll well IMO and I really noticed the difference when I fitted better wheels to my road bike) It will either be Chinese Ebay 38mm Carbon clinchers or Kinesis ali clinchers
Carbon bars
Replacement of 105 to Ultegra parts (Not a necessity, but I like the look of the Ultegra shifters)
New Saddle (Standard San Marco was a gamble and I don't like it)
2010 Giant Defy 2 running SRAM Force and Shimano RS80/C24s with Continental 4 Seasons
1999 Carrera Integer MTB
2014 Planet X SLX