Forum home
›
Road cycling forum
›
Your road bikes
Canyon Ultimate CF......
Simon1890
Posts: 117
Here's my new baby: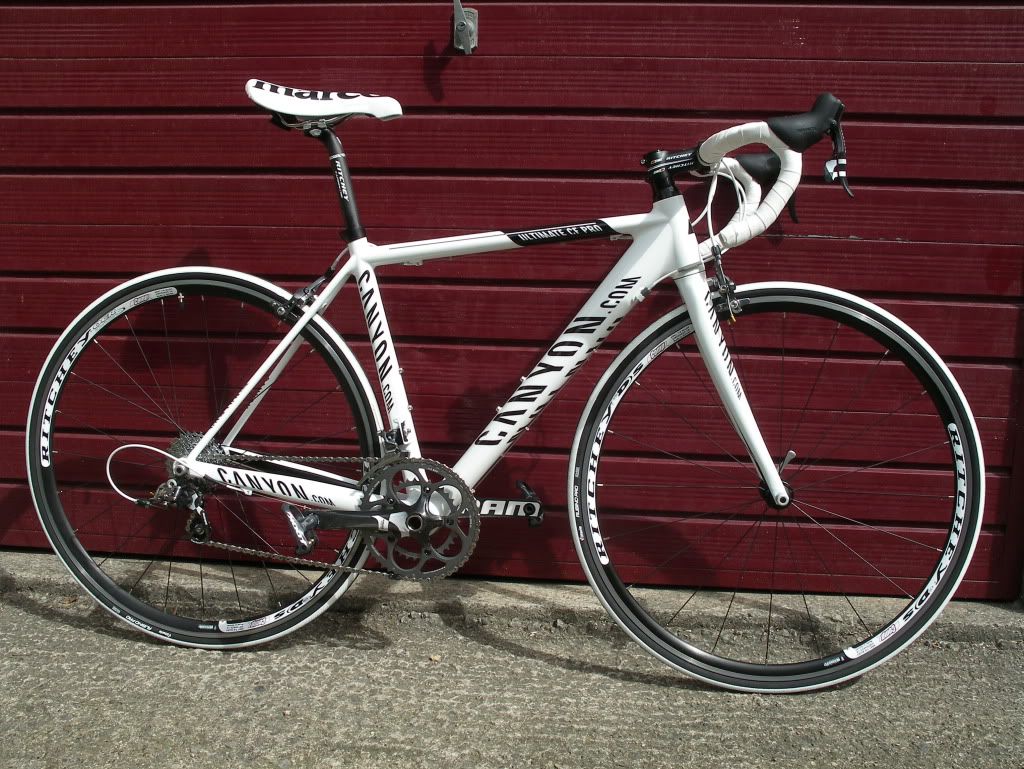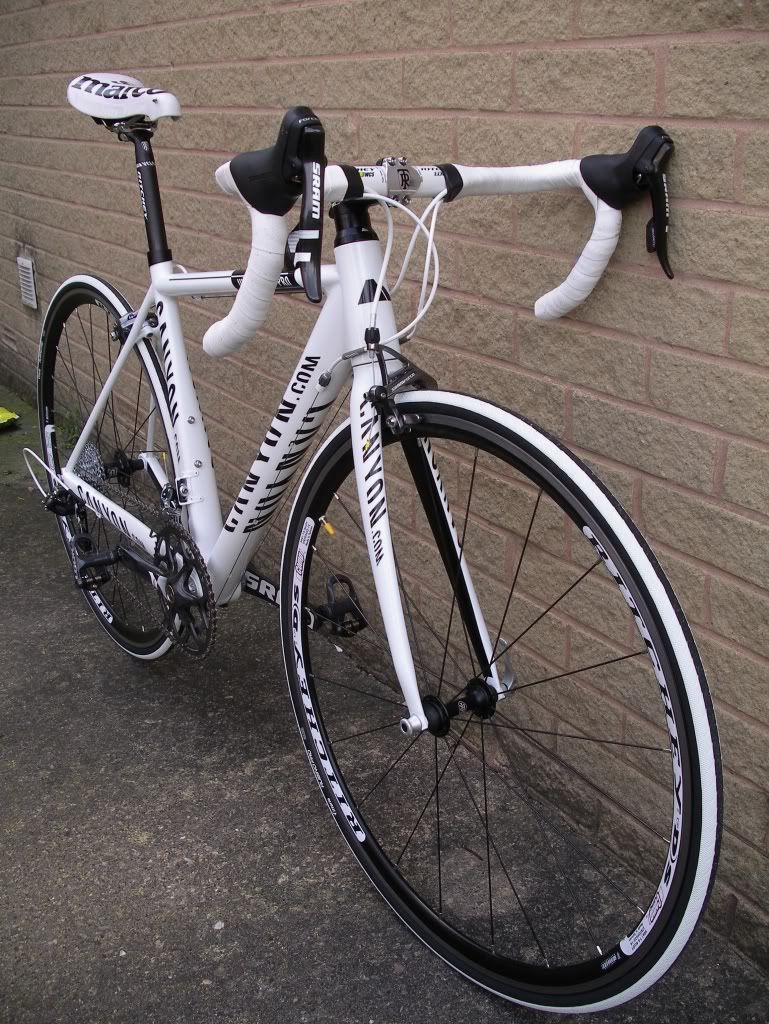 Frame: Canyon Ultimate CF Evo (in team colours)
Forks: Canyon OneOneFour SLX
Bars: Ritchey WCS Logic II in white
Stem: Ritchey WCS 4-Axis
Headset:Acros Ai-70
Bar Tape: Cinelli
Front Brake Lever: SRAM Force
Front Caliper: SRAM Force
Rear Brake Lever: SRAM Force
Rear Caliper: SRAM Force
Shifters: SRAM Force
Cables: Jagwire
Front Mech: SRAM Force
Rear Mech: SRAM Force
Seat: San Marco Concor Light (in white)
Seat Post: Ritchey VCLS
Seat Post Clamp:Canyon
Chainset: SRAM Force
Chain: SRAM PC 1070
Cassette: SRAM 1070 11 - 28
Pedals: Look KEO
Bottom Bracket: SRAM GXP
Wheelset: Ritchey COMP
Tires: Vittoria Rubino Road
Accessories: None yet, carbon bottle cages planned.
Weight: 7.2kg
Other info:
Basically, was in an accident, old bike was destroyed and had to spend 3 months off the bike. Took the oppertunity to upgrade to a better bike and after debating between Boardman and Planet X for ages i stumbled across Canyon bikes, loved the look and jumped at the chance to buy one in their TDF offer. Changed form Shimano groupset on my old Boardman to SRAM on the new one and built it up myself in order to learn better maintenance.
Been for a quick ride and was impressed with its comfortable ride and stifness, love it. Got a few niggling problems to sort:
1. Bar tape not great so will need replacing.
2. Chain length - i've obviously made a mistake when installing it as i can't get the full range of gears!!! whoops!!
3. Better setup of gears, position and general checks.
I know i'm running a compact with 11-28 cassette but i live in the middle of hills hills hills. Just to get to my house i have to ride up a 2 mile, 9% average hill!!!
BEST BIT OF ALL:
The bike, minus the wheels (which are my old training wheels) came in at just under £1500 so i'm really pleased.
Even better is the weight of this thing...7.2kg with my ultra heavy training wheels!! I'm thinking some carbon tubs aorund the 1500g mark and the overall weight will drop to below 6.8kg!!
HAPPY DAYS!!