Forum home
›
Road cycling forum
›
Pro race
La Vuelta 2021 - Stage 4: El Burgo de Osma > Molina de Aragón - 163,9 km **Spoilers**

blazing_saddles
Posts: 20,519
Stage 4: El Burgo de Osma > Molina de Aragón - 163,9 km
17-08-2021
Start time: 12-47pm
The 4th stage of la Vuelta travels on gently undulating terrain, but without a categorised climb in sight. It takes the race south-east from the start in El Burgo de Osmo to the finish town of Molina de Aragón, which is overlooked by a magnificent castle that was first established by the Moors in the 10th century and by the Torre de Aragón fortress, which stands on the crest of the same hill.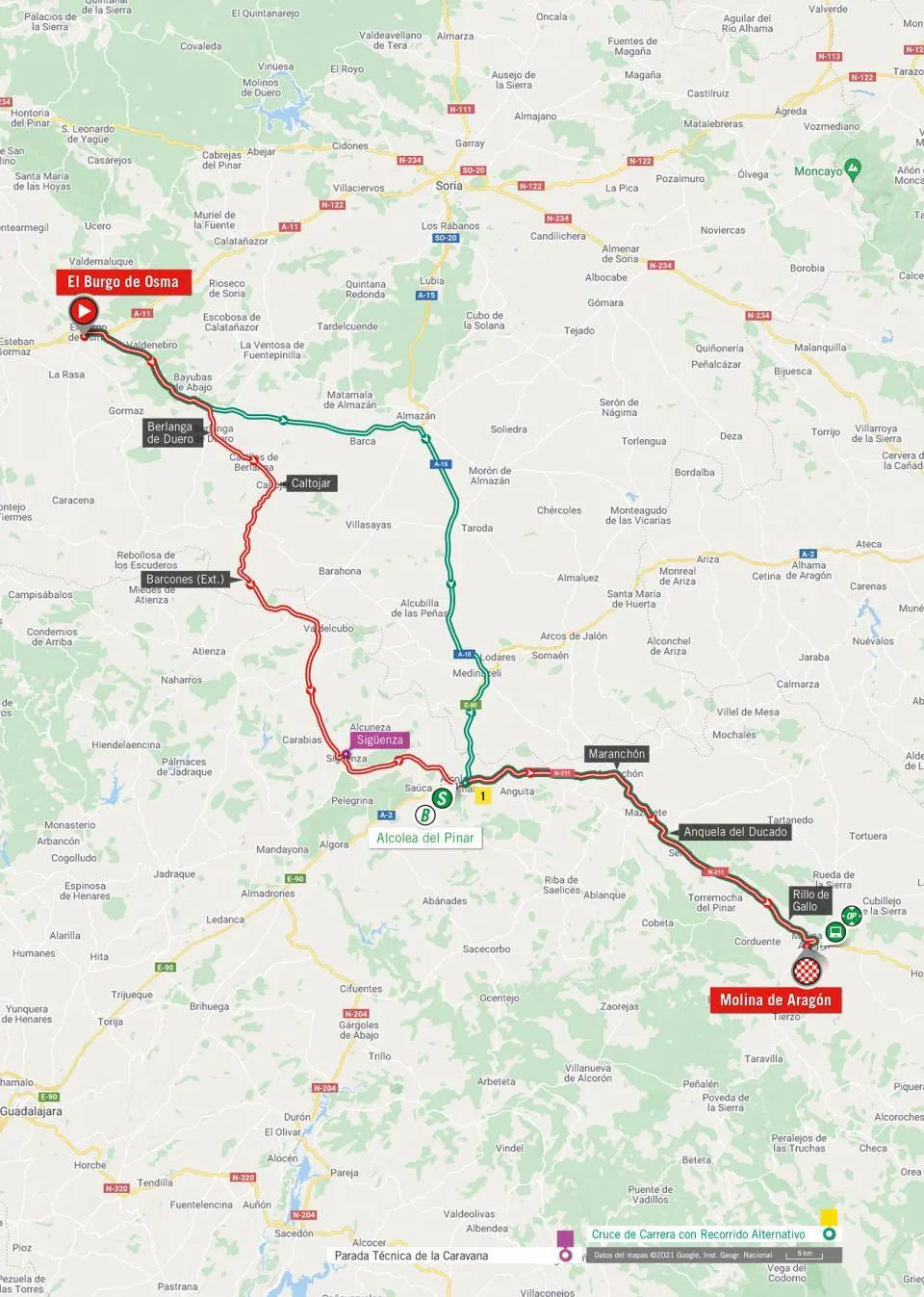 Although the profile is more undulating than the second stage, this is once again surprisingly flat terrain for the Vuelta. As on day two, the most likely difficulty on what are very open roads is the wind, which often barrels across Spain's central plateau. If not, it's another long siesta before the bunch sprint.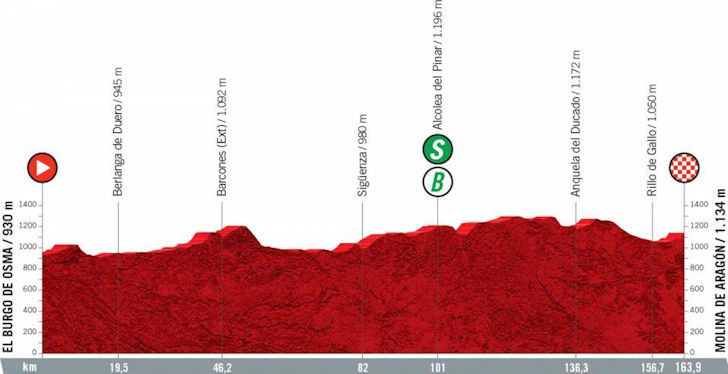 As the breakaway will have plenty of opportunities later in the race and this being a stage ripe for the fast men, expect a small, low quality group to be controlled by the sprinter teams. However, the final kilometre is uphill all of the way to the line, the gradient around 7 per cent.
Expect this one to be contested by the punchier sprinters who use gradient to combat their slight deficiency in top end speed.
Favourites 4th stage 2021 Vuelta a España
*** Matteo Trentin, Michael Matthews, Jasper Philipsen, Arnaud Démare
** Fabio Jakobsen, Alex Aranburu, Clément Venturini, Sebastián Molano,
* Alberto Dainese, Riccardo Minali, Martin Laas, Jon Aberasturi, Juan José Lobato
El Burgo de Osma
Unprecedented departure
4.940 inhabitants.
Yup, it's all about another one: The 'Vuelta of the Cathedrals' would not be such without a stop in the Soria locality of El Burgo de Osma. Declared an Asset of Cultural Interest in 1931, the Cathedral of Santa María de la Asunción's Gothic structure stands over the municipality since 1232. In 1234, another regular in this edition of the Spanish tour, namely Santo Domingo de Guzmán, was canonised.
Molina de Aragón
Unprecedented Vuelta finale
3.275 inhabitants.
The Castle of Molina de Aragón (also called alcázar or alcazaba) is a fortification in Molina de Aragón, Castile-La Mancha, Spain. It was declared Bien de Interés Cultural in 1931.
It is located on a hill commanding the surrounding valley, and is formed by an external line of walls with four gates and numerous towers, which defends the internal fortress. The latter has six towers, of which four are currently in good conditions. Originally, the line of towers included a village. It originated as a Moorish fortress (10th-11th century), built over a pre-existing Celtiberian castle. The fortress was used as residence of the lords of the taifa of Molina. El Cid resided here when he was exiled from Castile. In 1129 it was conquered from the Moors by Alfonso I of Aragon, who gave it the Lara family.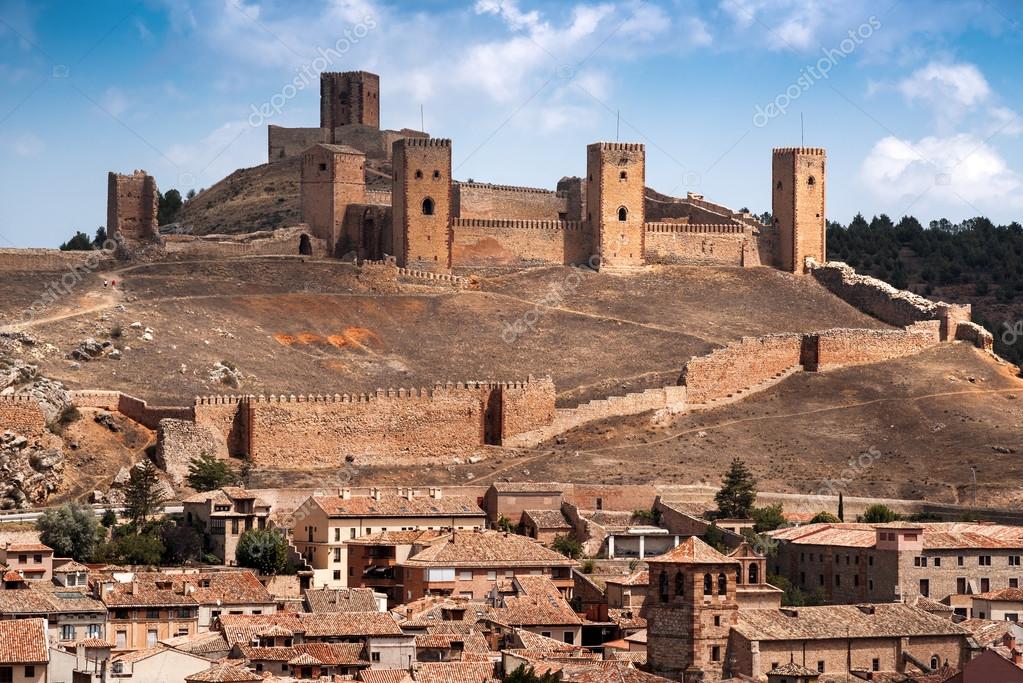 Longaniza
Spain has a long and proud sausage-making tradition, and the local specialty in Aragón is called longaniza. It's like most other Spanish embutidos in that it's a long, slender tube filled of pork meat and various herbs and spices—all except pimentón, Spanish smoked paprika. Longaniza tastes great grilled, fried, or served on top of a bowl of migas.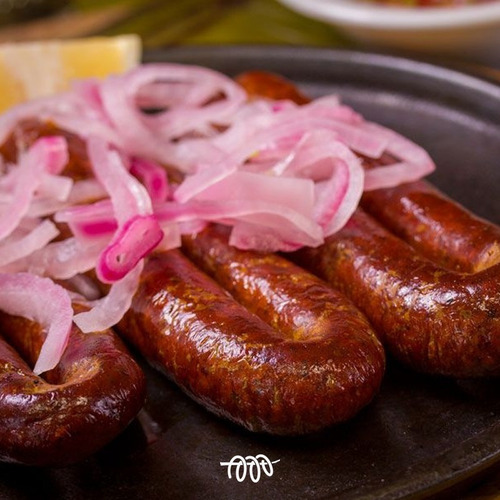 Trucha
The mighty Ebro River passes through Zaragoza, and its many tributaries flow down from northern Huesca and southern Teruel. It's no surprise, then, that trout caught from the region's rivers is a typical dish in Aragón, whether pan-fried with lemon juice or cooked and stuffed with peppers and bacon.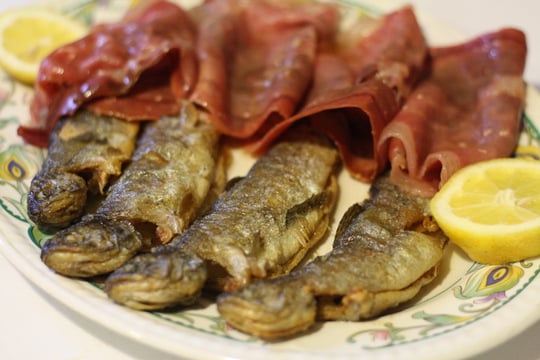 "Science is a tool for cheaters". An anonymous French PE teacher.