Forum home
›
Road cycling forum
›
Pro race
Giro 2021:- Stage 10: L'Aquila – Foligno 139 km **Spoilers**

blazing_saddles
Posts: 20,519
Stage 10: L'Aquila – Foligno 139 km

Monday, May 17th, 13.40 CEST
Technical Info:
The shortest stage of this edition, rolling stage with a pan-flat finale. The route first takes in climbs up to Sella di Corno and Forca di Arrone, and then tackles one last ascent up to Valico della Somma (awarding KOM points). The route eventually levels out in the final part, running on broad and mostly straight roads. As the stage passes through several urban areas,
roundabouts, traffic islands and street furniture
will be found along the route.
Final kilometres
The final kilometres are quite straight, up to 2,000 m to the finish. Here the route features a right-hand bend, immediately followed by two left-hand bends that lead to the home stretch (at 1,300 m out), with just a slight half-turn 500 m before the finish line, on tarmac road.
The shortest stage of this edition.
The Climbs:
Valico della Somma: GPM4, 6.7 km at 5%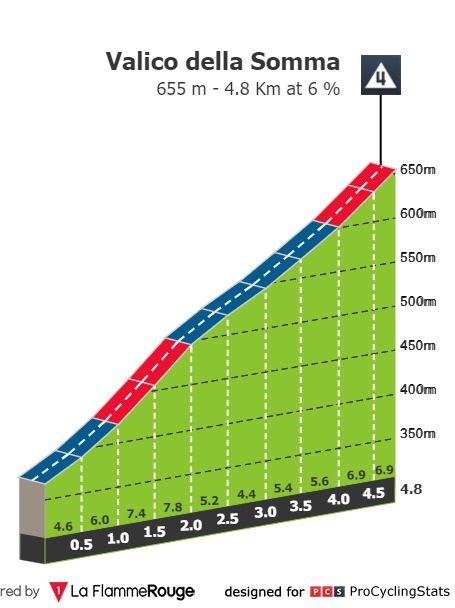 What to expect:
The 2014 Giro d'Italia saw virtually the same stage, but with an extension in the first part. Back then, Nacer Bouhanni outsprinted Giacomo Nizzolo and Luka Mezgec in the streets of Foligno. With few opportunities in the race, expect the sprinters to have this one marked down on their dance cards.
Favourites 10th stage 2021 Giro d'Italia
*** Elia Viviani, Tim Merlier
** Fernando Gaviria, Dylan Groenewegen, Giacomo Nizzolo
* Peter Sagan, Matteo Moschetti, Davide Cimolai, Max Kanter
L'Aquila
L'Aquila (means the eagle) is the capital city of Abruzzo region, placed at 714 m of altitude. The city is situated on a hillside in the Aterno river's valley and it is surrounded by the Appenini mountains, with the highest peak Gran Sasso d'Italia (2.912 m) to the North-east.
And further to yesterday's conversation and as it's the last opportunity....
Foligno
Lying halfway between the more renowned Perugia and Assisi, the city is an excellent destination.
Located along the Via Flaminia – one of the main roads leading to Rome – the ancient Fulginium, currently Foligno has a rich history and culture, along with plenty of culinary traditions. It sure deserves a visit to please your eyes, clear your mind and treat your taste buds.
Local cuisine offers a wealth of traditional Umbrian delicacies such as legume soups (especially grass pea), bruschette topped with olive oil, fresh handmade pasta (such as strangozzi and pappardelle) seasoned with wild game sauce or truffle, lamb roast and the famous coratella.
Local specialties also include the iconic pizza al formaggio (cheese bread) and its sweet rendition, made for Easter. When it comes to cakes, rocciata is a must-taste. This local rendition of the strudel, richer and tastier, is best paired with a glass of fine Sagrantino wine. Typical local produce include Colfiorito red-skinned potatoes, whose sweet and fragrant yellow flesh is used for making gnocchi, or cooked in embers.
"Science is a tool for cheaters". An anonymous French PE teacher.