Forum home
›
Buy & sell
›
Classified cycling ads
›
Buy and sell bikes, bike parts and clothing
›
Bike parts for sale
Carbon Tubular Wheels and Tyres for Sale - 700c x 33
colinm1962
Posts: 3
Planet X C38 Tubular Wheels fitted with Challenge Baby Limus Cyclocross tyres
.
Wheels:
These are in very good overall condition but have been used so bear signs of wear but no damage / cracks etc etc. Person who fitted the tyres was not the neatest and glue overspill can be seen on the rims in some photos. Its not bad - just if you are picky (like me) or wonder what you are seeing in the photos. This will clean up with Acetone next time you change the tyres. They are set up with the attachment points for 6 bolt brake rotors but can be run with Rim Brakes also.
They are suitable for standard Quick Release skewers.
The rear wheel is fitted with a 10/11 speed hub that will accept SRAM, Shimano or Sunrace cassette.
Bearings run smooth and wheels are true. Details from Planet X Ireland web site:
Features and Specification
Material: Carbon
Spokes: 24 front and rear / two-cross lacing
Rim Depth: 38mm
Rim Width: 24mm (external) / 19mm (internal)
Cassette Compatibility: 10 / 11-speed
Hub Material: Aluminium
Rotor Compatibility: 6 bolt
Bearings: Sealed
Axle: 9mm QR
Rider Weight Limit: 100kg
Weight: 1460g (680g / 780g)
Front wheel spacing: 100x9 mm
Rear wheel spacing: 135x10 mm
These wheels are currently on sale with Planet X Ireland at 630 Euros.
http://planetxireland.com/products-page/tubular-wheels/planet-x-pro-carbon-3838-700c-tubular-disc-and-rim-brake-wheelset/
The tyres are Challenge Baby Limus - Tubulars. Never punctured/repaired and have had very little use. These are designed for mud or gravel and I have used them on loose fire road gravel surfaces to very good effect.
They are 33c so ideal for fast on road as well as getting onto tow paths, gravel tracks and rough or muddy surfaces.
Wiggle have the tyres listed at £49 each - They say this:
"The Open Tubular Baby Limus 33 cyclo-cross tyre is ideal for sticky mud conditions and features a mix depth of knobs for traction and grip. The tyre also provides great speed, tough Super Poly casing and a good level of puncture protection."
https://www.wiggle.co.uk/challenge-baby-limus-33-open-tubular-cyclocross-tyre/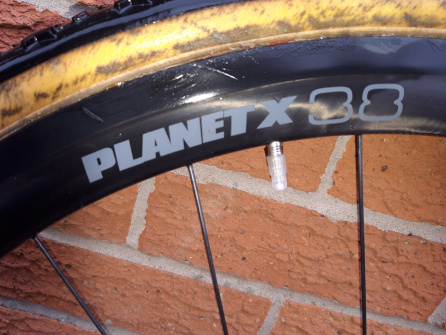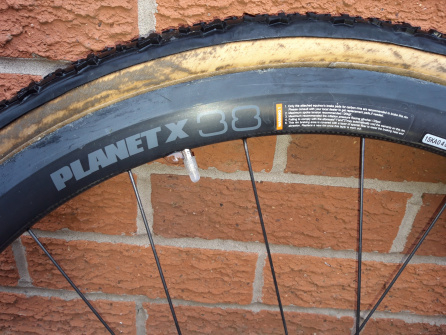 So in total this set up would cost you around £700 new. I need to clear some space in my shed and pay for some of the bike parts I have been splashing out on during lockdown so I am only looking for £275. I am happy to post/courier at buyers expense and they will be well packed in a proper wheel box.
If you have any questions or would like more information please do not hesitate to get in touch.
Thanks for looking