Forum home
›
Commuter cycling forum
›
Commuting chat
Can't ride - going crazy.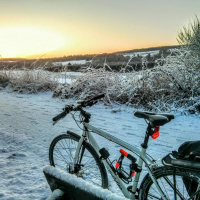 seajays
Posts: 330
OK - how do people deal with it when you can't ride the bike because of injury!?
Had an "incident with a horse" - i.e. was tacking her up to ride and she span round kicked and smashed my hand against the wall, fracturing my thumb, and major bruising to the whole hand and arm. Have to wear splint for 4-6 weeks. Only two weeks gone by so far.
No riding - of either kind - possible (having to catch the bus :evil: ), annoying my OH by moaning about how I wish I could be riding my bike (tried suggesting I could ride one handed - she wasn't going for that idea), and just watched two weeks of good riding weather, nights are getting lighter again etc. go by whilst having to walk and glowering gloomily at happy cyclists zooming past.
Cannondale CAADX Tiagra 2017
Revolution Courier Race Disc '14
My Strava