Forum home
›
Commuter cycling forum
›
Commuting general
Best Bike Bell?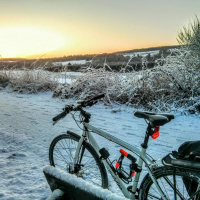 seajays
Posts: 331
OK - does anyone have any recommendations for a bike bell that isn't too big, but will not break in the first couple of months?

All the cheap bells that come fitted with the bikes I've had break in no time at all, case in point, yesterday the temperature was 1°C, and when I tried to use the bell, the plastic level arm was too cold and brittle and simply snapped off! :?

As my commute is on a shared cycle path, it gets a bit annoying having to shout at everyone, so I really need a bell, but need something that doesn't rust, and doesn't rely on plastic parts that either lose their spring, or snap off in the cold!
Cannondale CAADX Tiagra 2017
Revolution Courier Race Disc '14
My Strava