Forum home
›
Commuter cycling forum
›
Commuting chat
Three Years Down and 14,000km!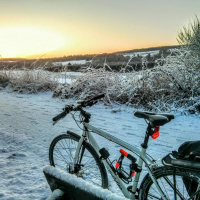 seajays
Posts: 331
So after starting cycling to work three years ago (after not riding for 20 years), I've now passed my anniversary with almost (14,000km) and have managed to cycle my commute
every single working day in the whole three years
- rain, shine, snow or wind (and the occasional PF visit). Of course that means I can
never stop
as it would ruin my perfect record.
But having passed that milestone, I've also now got the go ahead from SWMBO to get a new bike! My first n+1 8)
So have ordered the Cannondale Tiagra CAADX. Had a test ride yesterday - boy is it a different ride from my hybrid (which will now become my official "Winter" bike). So excited.
She will be mine. Oh yes, she will be mine.
Cannondale CAADX Tiagra 2017
Revolution Courier Race Disc '14
My Strava