Forum home
›
Road cycling forum
›
Training, fitness and health
Psychology of intervals and motivation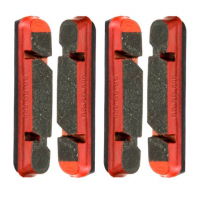 neeb
Posts: 4,467
I know I benefit from (amongst other things) 2x20s at FTP, but familiarity just seems to breed dread..
There's the procrastination when I get back home which means I tend to leave it until as late as possible. The feeling during the last minute or two of the warmup is something close to fear.. Then there are those familiar low points that I know will be coming - the realisation in the last few minutes of the first interval that although this feels pretty horrible, the second session will be much worse.. The point 5 mins into the second session when it's starting to feel really bad but there is still 15 mins to go.. The point at about 12 mins in when you think you won't make past 15 mins and are considering quitting..
Maybe I'm sometimes doing them at slightly over FTP and that's the problem.. But if I lower the wattage a bit it affects my morale because I then have to accept that my FTP isn't what I want to think it is..
Other times though I just think that it's all down to attitude - maybe I could manage the harder session if I just MdTFU.
What strategies to people use to deal with the psychology of hard interval sessions?