Forum home
›
Road cycling forum
›
Training, fitness and health
Are my heart rate zones all wrong?
Cardinal-Red
Posts: 37
Relatively new cyclist here, 6 months in now, and I'm training towards two events in May and June of 60 miles and then 88 miles (and yes I know big event is all relative!)
I have a training plan in place and the weekend is all about long endurance riding in zones 2 and 3, with some time in zone 4. So I did 3 hours this weekend, and my heart rate performance looks like this: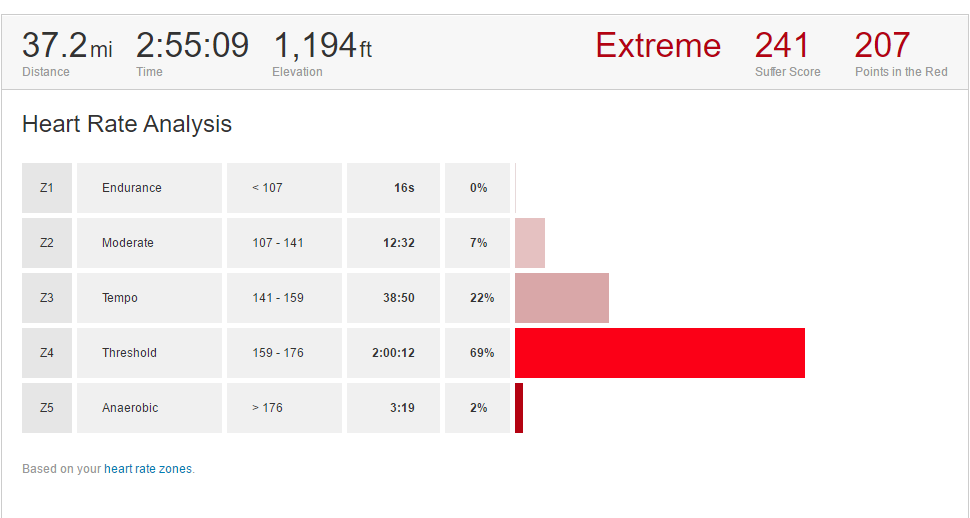 So of the 3 hours, this claims that 2 hours of it was spent in Z4 and hardly any in zone 2.
So recognising that these are not an exact science (Max HR is based on the 220 - age rule, and threshold HR based on 2 months of TP data setting it at 167, have I got these set up completely wrong?
To me it seems that 2 hours in the Threshold zone is not really sustainable - and while I was shot at the end of the ride, there was never a point on it when I felt drained, truth be told except the 2 big climbs I never once really felt out of breath.
You can see from the distance and elevation that it wasn't that demanding a ride (again relatively, it's my furthest one to date though).
And from a training point of view, is there any harm in doing it this way?
Note that my Garmin reset after 3 miles, and so the 16s in Zone 1 is not representative as the first few minutes of the ride are missing from this profile.
Thanks for any comments!
PS edited because got photo wrong