Forum home
›
Commuter cycling forum
›
Commuting chat
Schwalbe Winters - Spikes Causing Punctures?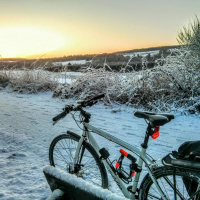 seajays
Posts: 331
Has anyone else had a problem with Schwalbe Winter spiked tyres, where the spikes start to press through the inside of the tyres, causing wear spots on the inner tube (and eventually punctures)?

Mine seems to be doing that, and you can actually see holes on the inside of the tyre itself where the spikes have broken through. You can also see definite marks all along the inner tube where the pressure points are.

I do leave them on over winter time, and this is their second year, but still a bit disappointed that they've managed to push through - the outer tyre is still good!
Cannondale CAADX Tiagra 2017
Revolution Courier Race Disc '14
My Strava