Forum home
›
Commuter cycling forum
›
Commuting chat
My First Commuting Anniversary!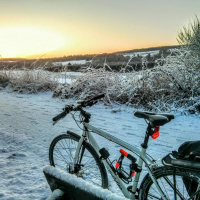 seajays
Posts: 330
Well it's official - today is the first anniversary of commuting to work by bike (and if you were around a year ago, you'll know that that's after
twenty years of not riding
at all!)
And I've managed to cycle
every working day
- sun, wind, rain or snow! No more bus for me! 8)
So what have I learned:
I really enjoy cycling - I was a bit worried at the beginning - wondering whether things like knees/joints etc would hold up. There was some adjustment at first, but now it's all good!
It's so much faster than the bus ever was - it takes me just 20-25 minutes for my little commute one way - if I had to get the bus it would be twice that at least!
The miles and time mount up - according to Strava I've cycled over 3,200 miles and spend over 244 hours on the bike! (I know that's not a lot to some of you - but it really made me think, especially as I've halved my commute time as well).
I've also learned:
I now want another bike "for best" - still haven't managed to find quite the right convincing argument for SWMBO yet though - despite all your help
The weather really isn't a problem if you're wearing the right clothing (which I have to admit in my case does involve a lot of lycra).
Aberdeen isn't a bad place to cycle, and city driving isn't as scary as I thought it would be if you ride assertively.
Half of you lot on here are crazy cycling freaks who can knock out 100 miles with your eyes shut and no hands! Something which I still yet aspire to...
You can take your bike on trains - I had a meeting in Glasgow last week, so I took my bike on the train and cycled to the meeting as well!
Don't ever ask about the merits of helmets. Or Hi-Viz.
So year two starts here!
Cannondale CAADX Tiagra 2017
Revolution Courier Race Disc '14
My Strava