Forum home
›
Commuter cycling forum
›
Commuting chat
Winter Tyres On - Eventually!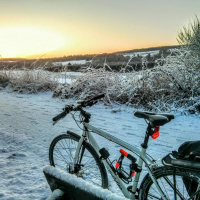 seajays
Posts: 330
Well, given the ice in the mornings last week, and the forecast here for more ice and even snow this week I thought it was time to put my winter tyres on.
Note: I had not had to do anything with the tyres at all since I started commuting (and cycling!) in June.
How hard can it be I thought. So
two hours
and
one broken tyre lever later
I finally managed to get my new tyres on.
It took me ages to first get the tyre off (being a bit scared of breaking the plastic tyre lever - which I eventually did). And then when I put the new one on, at first I though "this seems a bit big - have I got the right size?", before getting to the last bit, and then thinking this is
never in a million years
going to go on there.
Eventually I looked up a video on youtube... where it was cleverly pointed out to make sure you get the bead in the groove of the tyre to give you the extra space you need. :oops: Lo and behold... it went on real easy after that!
So first tyre an hour and a half, then second about 20 minutes.
At least they're on now. And I've learned how to sort the tyres.
Cannondale CAADX Tiagra 2017
Revolution Courier Race Disc '14
My Strava