Forum home
›
Commuter cycling forum
›
Commuting chat
Reasons to Commute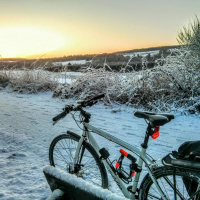 seajays
Posts: 330
Well that's me over three months into my cycling commute now, and time has really flown by. I have to say I'm really loving it too.:
I feel much fitter and healthier
I'm fortunate to have a lovely picturesque route in.
It's so much quicker than my one hour bus journey!
It's cheaper* than the bus
I have the smug satisfact… err… I'm helping the environment.
Still improving from
then
to
now
as well (onwards and upwards)!
So what other reasons do people out there have for commuting by bike?
* Please ignore the other stuff I keep buying - that's a one-off "investment"
Cannondale CAADX Tiagra 2017
Revolution Courier Race Disc '14
My Strava