Forum home
›
Road cycling forum
›
Road general
Chinese carbon clincher WARNING!!!
martinperry
Posts: 127
In April, I got a set of these lovely Carbonzone wheels.
http://www.ebay.co.uk/itm/2013-new-tech ... 258b68266e
After chewing over all the information out there, I decided that all the warnings about catastrophic failure were exaggerated, and I knew best - Carbonzone were a more respectable Chinese outfit, and Basalt brake tracks must be just like Mavics Exalith. Anyway, for £300 delivered, what the heck - its a gamble / experiment.
BIG MISTAKE!!
Did about 2000 miles on them on my local, flat Essex roads - really impressed - ran well, and very fast.
On Sunday, we went into real hills - Specifically Hard Knot Pass on the Coast to coast, which we were attempting in 2 days.
Coming over the top, into a 35% descent, My first thought was HOLY censored - probably a bit hard on the brakes as I got a feel for how to descend while my rear wheel is trying to take off, but all very controlled.
After a couple of hundred metres, both wheels seemed to be pulsating under the brakes, to the point that I really slowed down to get things back on the straight and narrow. Very lucky on reflection.
Next thing BANG - front wheel / tyre exploded - thought the tube had gone due to overheating.
Looked down - the hook on the rim had totally separated over about 100mm, and the carbon around it was in tatters.
[img][/img]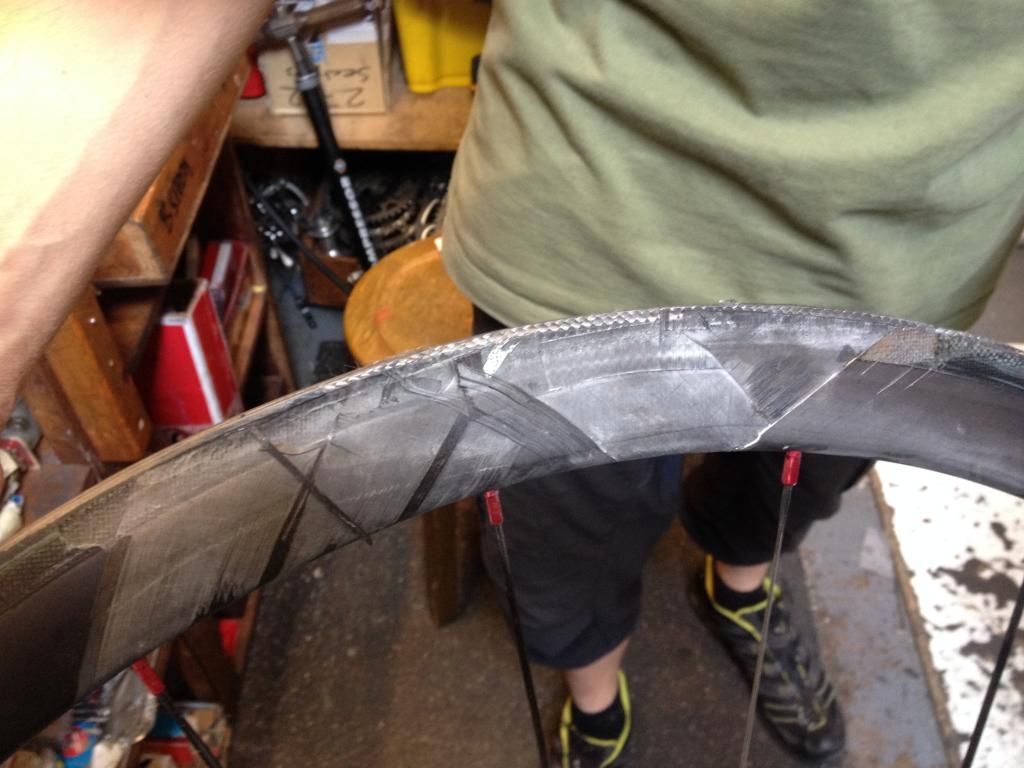 Fortunately, I was virtually stationary at the time - cant imagine how bad this would have been at 50 MPH plus, as some of the later descents were.
Got a lift into Ambleside, where Ghyllside Cycles sorted me out, and had me back on the road in about an hour, including fitting a new rear mech,(different story!!) so could finish the C2C in some form - shame about the lift in the middle of the ride, but that piece of cr*p wheel was going nowhere!
BIG BIG thanks to Ghyllside - a proper LBS run by great blokes who know their stuff.
LESSON LEARNT - PLEASE take heed