Forum home
›
Road cycling forum
›
Your road bikes
Rose Xeon RS-5000

cat_with_no_tail
Posts: 12,981
My first real foray into road bikes. Spent a while chatting with the guys at Rose about what to go for. Decided to go for an alloy frame, as I'm a bit of a unit, and tend to plough stuff rather than floating over it. This left me with a little extra money which I used to splash out on some Campy Chorus because I've always wanted it.
Stuck with a compact as round here, everywhere is up and I'm not man enough for a full standard double. The climbing is also the reason I stuck with the Ksyrium Elites.
Anywho, got a text from the wife at lunch time today saying it had arrived. What followed was the longest 7hrs of my life.
When I got in, this is what was waiting....
Opened her up, and it was a very tidily packaged road bike. All good so far then......
Out comes the front wheel, the seatpost, and the box which contained the pedals and a little document folder complete with every manual from every part, and all the warranty info, spoke keys etc.
Threw on the pedals, front wheel, turned the bars, inserted the seatpost, and here we are (I'm aware my saddle needs adjusting and bars could do to be angled down a touch more).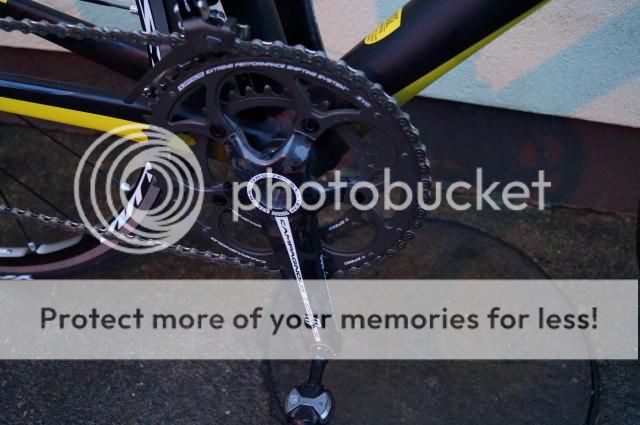 Frame: Rose Xeon RS5000 (Alloy) 57cm
Forks: Rose Xeon RS Carbon
Bars: Ritchey Evo-curve WCS Carbon 42cm
Stem: Ritchey WCS 4axis 90mm
Bar Tape: Xtreme, soft touch, Yellow
Front Brake Lever: Campagnolo Chorus Ergopower
Front Caliper: Campagnolo Chorus D-Skeleton
Rear Brake Lever: Campagnolo Chorus Ergopower
Rear Caliper: Campagnolo Chorus D-Skeleton
Shifters: Campagnolo Chorus Ergopower
Cables: Campagnolo Chorus
Front Mech: Campagnolo Chorus
Rear Mech: Campagnolo Chorus
Seat: Selle Italia SLS Monolink XC
Seat Post: Ritchey WCS Carbon Monolink Flex
Seat Post Clamp: Rose
Cranks: Campagnolo Chorus Ultratorque Compact 172.5mm
Chainring(s): 34-50
Chain: Campagnolo Chorus
Cassette: Campagnolo Chorus 11-25
Pedals: Speedplay Zero cro-mo
Bottom Bracket: Campagnolo Chorus
Front Wheel: Mavic Ksyrium Elite S WTS
Rim: Mavic Ksyrium Elite S WTS
Spokes: Mavic Ksyrium Elite S WTS
Hub: Mavic Ksyrium Elite S WTS
Tube: Mavic Ksyrium Elite S WTS
Tire: Mavic Yksion Pro Griplink 25mm
Back Wheel: Mavic Ksyrium Elite S WTS
Rim: Mavic Ksyrium Elite S WTS
Spokes: Mavic Ksyrium Elite S WTS
Hub: Mavic Ksyrium Elite S WTS
Tube: Mavic Ksyrium Elite S WTS
Tire: Mavic Yksion Pro Powerlink 25mm
Accessories: couple of bottle cages, k-edge chain catcher, k-edge garmin mount (all still to be fitted)
Weight: 7.13KG with Pedals
Other info: The guys at Rose were very helpful with configuring this bike. The configurator on their site is also excellent