Forum home
›
Mountain biking forum
›
Your mountain bikes
Spesh P1 morphes into Scott Genius RC20 - 22/03 update
The Rookie
Posts: 27,756
So the son has decided he wants an FS bike, currently riding a much modified Specialized P1 AM.
last night we picked up the frame for a bargain price (too embarressed to say what it was)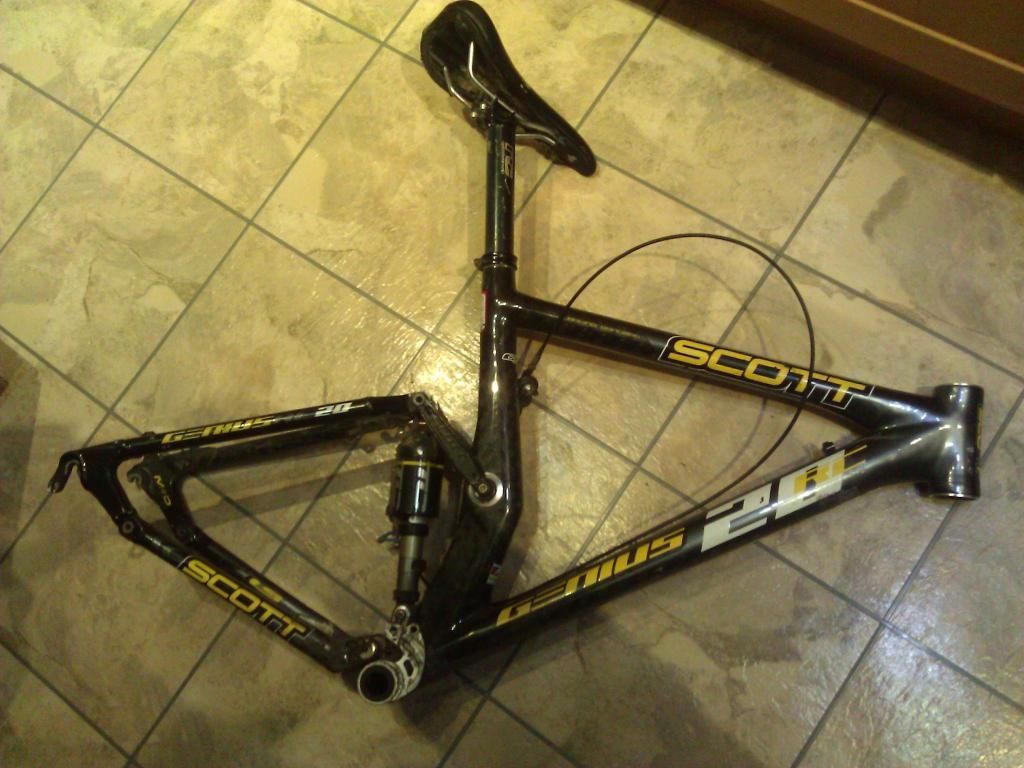 First step will be to give it a clean up, remove the shock and check all the pivots and touch in any stone chips and also paint over the tyre rub on the inside of the chainstays.
Thankfully the manuals are all still available from Scott.
We'll be sorting a shopping list soon and I'll also post some pics of the donor bike, but we'll be carrying over
1/ Bars and stem (Merida Mission X)
2/ Most the drivetrain (Octalink, X9 shifters, X7 rear mech)
3/ Fulcrum Red Metal5 wheels
4/ Conti MK tyres
4/ Tektro Auriga brakes (have to do for now)
All of that (except the crankset and BB) being upgrade parts on the Spesh anyway, although he's looking at having my Deore HT2 when it comes off after Christmas (thanks to Benpinnick!)
The Current manitou forks are 120mm and too short, so we'll be looking for some 140/150mm forks, if anyone knows what the stock headangle is we'd love to know so we can decide on fork length, he prefers a more relaxed front and as the MC's are nose heavy we are keen not to go too short (although the plethora of 130's are tempting)