Forum home
›
Mountain biking forum
›
Your mountain bikes
My do it all bike.
an_original_name
Posts: 339
Picked up a Nukeproof Mega frame a few weeks ago to replace my specialized pitch frame (for sale if anyone is interested?). It's currently dressed ready for a biking season in Queenstown. I'd usually have a 2.2 nick on the back, 2.2 fat al on the front, and a reverb seatpost, but seeing as 90% of the riding I'll be doing in Queenstown is lift assisted park riding I decided to put some beefier tyres on and loose the uppy downy goodness that was the reverb. sorry for the bad quality pics, ipod touch camera was all I had to hand.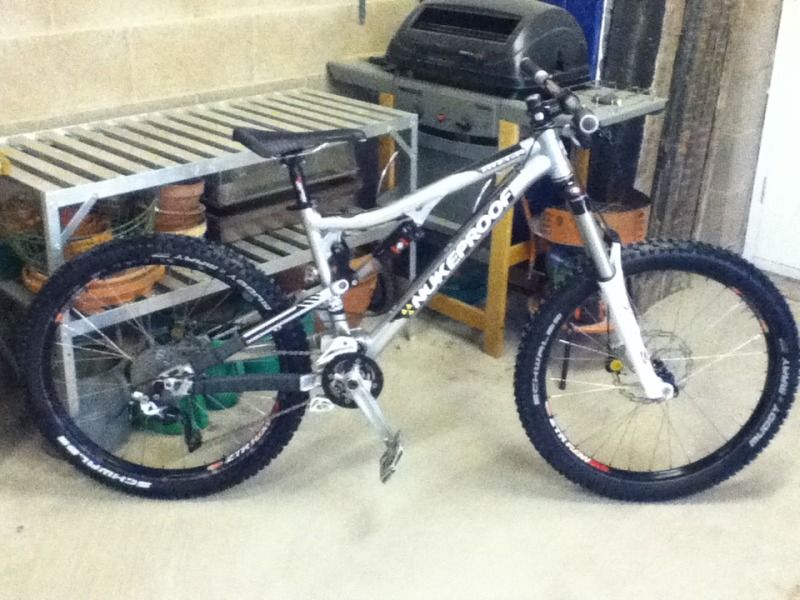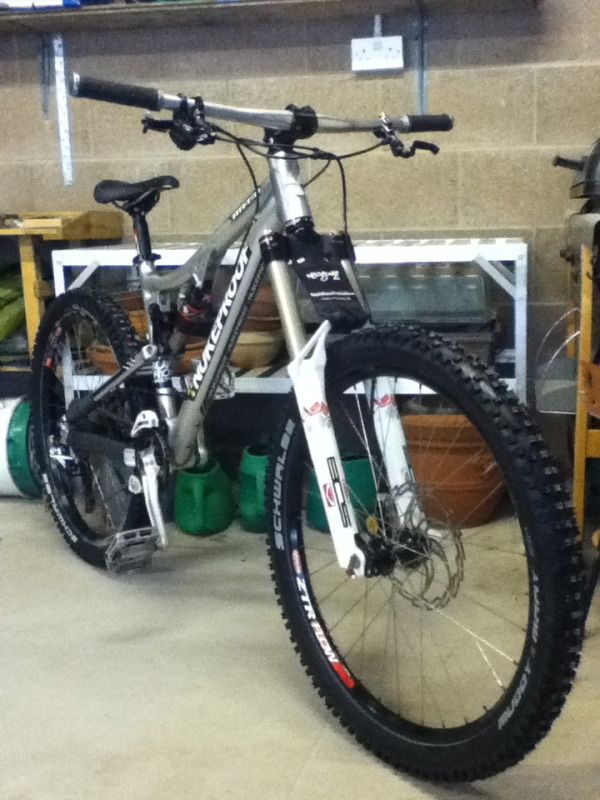 Spec:
Nukeproof mega frame medium anodized silver
Nukeproof warhead headset
BOS Deville 160mm forks
Stans flow on Pro 2's
Both tyres are 2.35 Muddy Mary's, front is a vertstar, rear is trailstar, both set up tubeless
Formula the one brakes, superstar rotors (203mm front, 180mm rear)
Raceface atlas am cranks
Superstar ultra mag pedals
E thirteen g-ring 32t (might go up to 36 for Queenstown), no name bash guard
Da bomb recoil chainguide (superstar plasma was out of stock in black so ordered this. Its identical and cheeper
)
Shimano XT shadow+ rear derailleur
Shimano XT 11 - 36 cassette
Shimano XT shifter
KMC 10 speed chain
Superstar seatpost
Fizik gobi saddle
Element nickel wide flat bar, cut to 730mm
Thomson 70mm stem
Peaty lock on grips
Not sure on the exact weight, with the nick on the back, al on the front, and a reverb it was 30.6lb. I guess the tyres have added close to 1lb, but loosing the reverb will have shaved a little off. Probably around 31.2 ish.