Forum home
›
Road cycling forum
›
Training, fitness and health
Bike fit or wrong set up??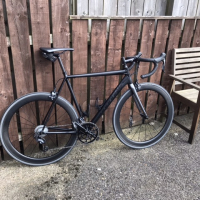 dg74
Posts: 656
Hi

I'm not a relative new comer to cycling but something has been bugging me this week.

I've a 58cm Specialized, running a triple but never use the granny ring, I'm 5'10", but cannot seem to get a decent power transfer to the pedals.

My average speed is 14/15 mph yet a mate of mine has just bought a Trek 1.2 (new model) and he is new to cycling but can drop me at the slightest moment with ease. I've watched his method and to me, it seems he is doing less work but is more efficient. I, on the other hand, am like how Billy Connolly describes Scottish footballers (some people will get that joke).

Any ideas? I know it's probably wise to see how the bike is set up but I just need a couple of ideas before I head to the local bike fit shop.

Cheers.