Forum home
›
Mountain biking forum
›
Your mountain bikes
ANOTHER 456 build! (poo brown content)-finished, pics on p2
ilovedirt
Posts: 5,798
For those of you that don't recall, last summer, i started a build on an old commencal meta 5 frame, but after about 8 rides, the BB shell totally stripped, i've left it until quite recently, when i decided to just get rid of it, as it's more hassle than it's worth, and I ordered a poo brown 20" 456 frame a few weeks ago. Well it turned up today, and it's pretty nice looking! It's going down the bike shop for facing the bb shell etc and to have a headset fitted, and the fork (a pike) is also going down to be sent off to tftuned, as it's well overdue a service, and the seals are shagged.
As for the rest of the build, i'll be using the majority of the stuff off my meta build, so juicy 5's, hope hoops on DT EX500 rims, SRAM X.0 shifter and cassette, X.9 rear mech, single ring up front on a raceface evolve DH with some red bits scattered in there. I'll post the full spec when it's done, should be a couple of weeks from now, as I left some parts (the drivetrain and brakes) at my dad's and i'm going to have to get the train to go and get them.
Anyway, for now, a bit of a mock up as to how it will look!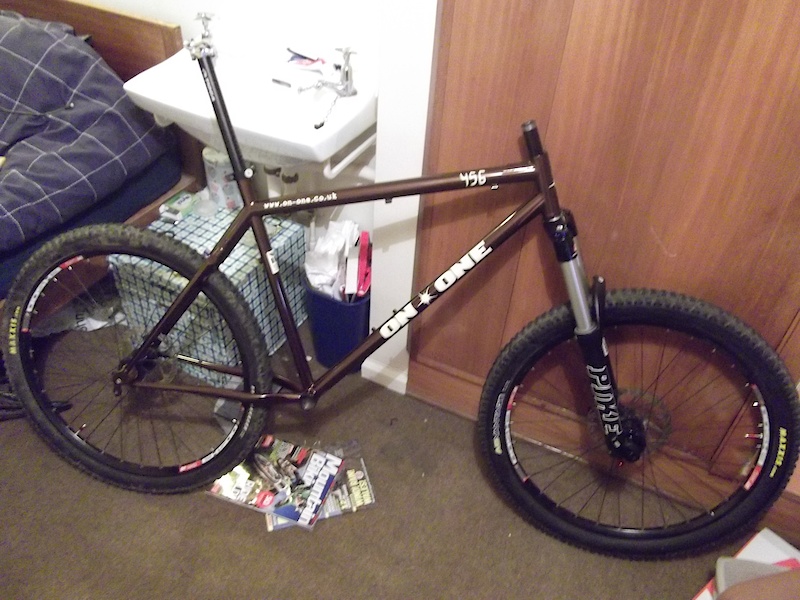 Apologies for the censored photos, i'll try and get some better ones when it's fully built