Forum home
›
Road cycling forum
›
Training, fitness and health
It's a little bit about the bike...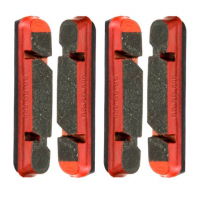 neeb
Posts: 4,448
Because most of us are understandably cynical when it comes to the BS from manufacturers about faster, stiffer bikes & wheels etc, it can come as a surprise to discover that the bike can actually make a bit of a difference..

Most of my training in the winter is indoors on a taxc fortius. I have three bikes - a Ti Enigma, carbon Scuro RS and an old Alu cross bike. Previous winters I've had the Ti bike on the trainer with Campagnolo Eurus rear wheel, but this year I initially used the cross bike, with a low-end alex a-class wheel. Exactly same setup otherwise, same tyre, same roller tension etc. I was finding that I just couldn't get my power output and finishing times up to what I was managing last year. I know what figures I should be able to get when I'm doing several sessions a week, but it just wasn't happening, and it was beginning to seriously affect my confidence and motivation. So I tried putting the carbon bike on the trainer instead, with the same Eurus wheel (the Ti bike is elsewhere at the mo.). I was instantly able to generate the sustained power I am used to.

The difference seems to be nearly 15W in a 40 minutes max effort session. As it happens this about the same as the difference I can expect between being moderately untrained (say if I haven't been doing anything for 3 or 4 weeks) and being in reasonable shape.

I guess the lost power must be either due to frame/crank flex or wheel flex of some sort. Bike setup (contact points) are exactly the same. I must admit it came as a bit of a shock to discover that the bike does actually make such a significant difference!