Forum home
›
Road cycling forum
›
Your road bikes
Ribble Gran Fondo: Self Build Update
tonybanham
Posts: 60
[img][/img]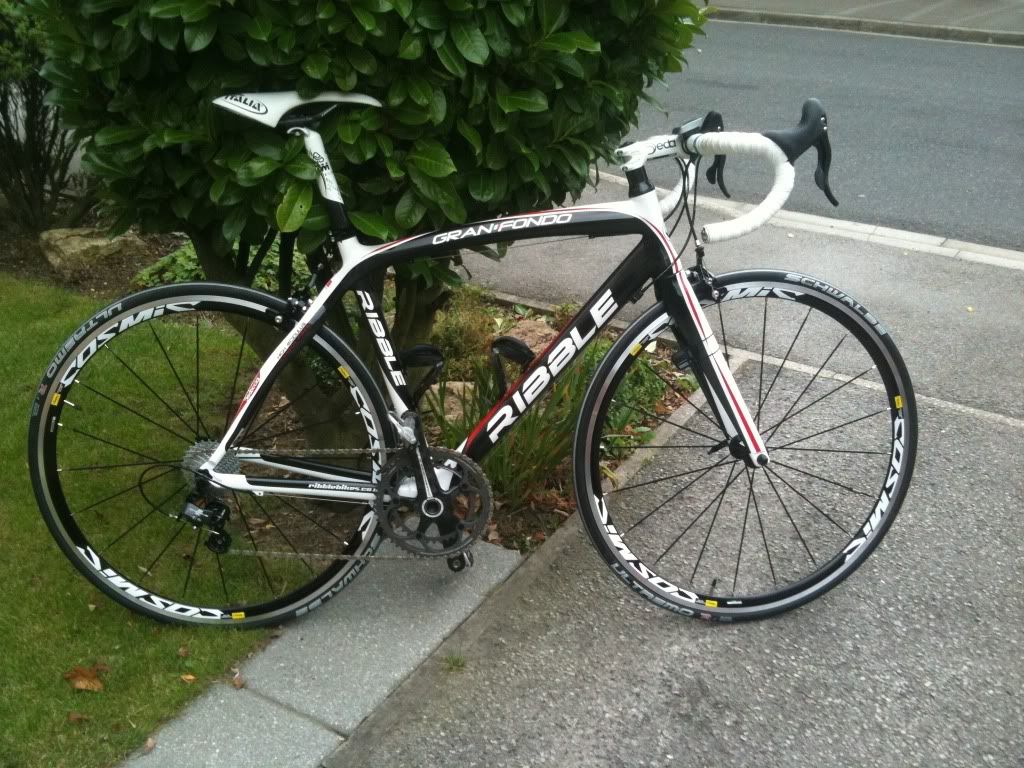 [/list]
New on this forum but the information I found on here was very useful when I decided to get a new bike after 12 years with my Dolan/Chorus/Rolf built by Chevin (will be for sale soon). Eventually decided to go with the Ribble Grand Fondo frame set, good value for money and mainly black & white. I have never built a bike before so I went for the self-build option (might not get another chance) with bits bought from various sources on the interweb. The frame is slightly different to the one shown on website has straight folks & different profiles at the back.
Build was a bit harder that I thought, (note to self: need better wire cutters) and I still struggle with bar tape!
Have to say the Ribble customer service was excellent had they the frame ready to collect when requested as I was in the Preston area that day, also no star nut was supplied but after a quick phone call one was put in the post.
Sorry the picture is not very good, the bush seemed a good support for the bike at the time. I will get my daughter to take a better picture.
Frame: Gran Fondo 51cm (M)
Forks: Gran Fondo
Groupset: Campag Chorus 2011
170mm cranks 53-39, 12-27 cassette, dual pivot brakes front & back.
Wheels: Mavic Cosmic Elite 2011
Tyres: Schwable Ultremo R.1 (Black-Silver)
Bars: Deda Zero White O/S 46cm
Tape: BBB Vintage White
Stem: Deda Zero 100 Servizio Corse White 100mm
Seat Post: ITM Alutec 7075 Carbon
Saddle: Selle Italia Thoork Team Edition
Cages: BBB Carbon Look
Computer: Sigma 1106DTS
Pedals: Veloce Profit (from old bike)
Completed today & not yet ridden in anger hopefully this weekend if the weather is OK!
Will report later along with a better picture.