Forum home
›
Road cycling forum
›
Tours, routes, audaxes & organised rides
›
Tour & expedition
London to Rome, pre-tour prep and advice!
iPete
Posts: 6,076
So in 10 days, me and a friend are embarking on a 1200 mile tour, with 17 days to reach the Roman Colosseum!
Thought I'd share my kit and take on-board any last minute tips!
Our first day isn't easy, 90-100 miles to reach our ferry by 5pm, then the mission is to find a campsite a little into Calais. After that we are going to be winging it down France, crossing the Alps along the West side of Switzerland from Martigny. Then heading for the West coast of Italy and follow the sea down to Pisa and eventually down to Rome.
Something like this:
http://tinyurl.com/yd2n7m9
Plan is to cycle for 6-8 hours per day, cycling for time not distance but needing to cover at least 70-80 miles per day.
Been cycling 35-40miles 5 days a week for 6 months now, so fairly happy with fitness, won't be pushing it anywhere near as hard as I do training.
The bike: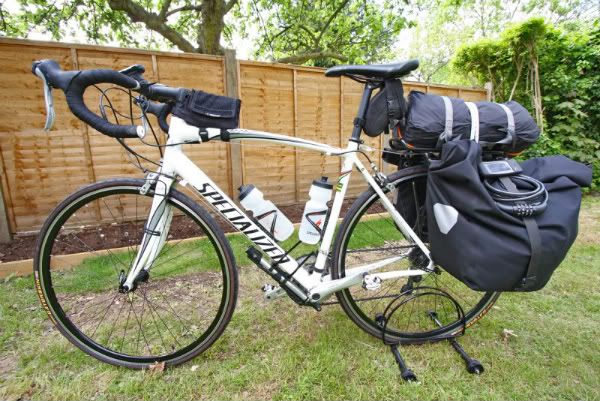 2010 Allez double with 700x25 Gatorskins, with Topeak Super Tourist DX rack, Ortlieb Back Roller Plus panniers, Topeak Tri-bag up front, topeak saddle bag & Topeak Road Morph pump with gauge mounted underneath.
The kit: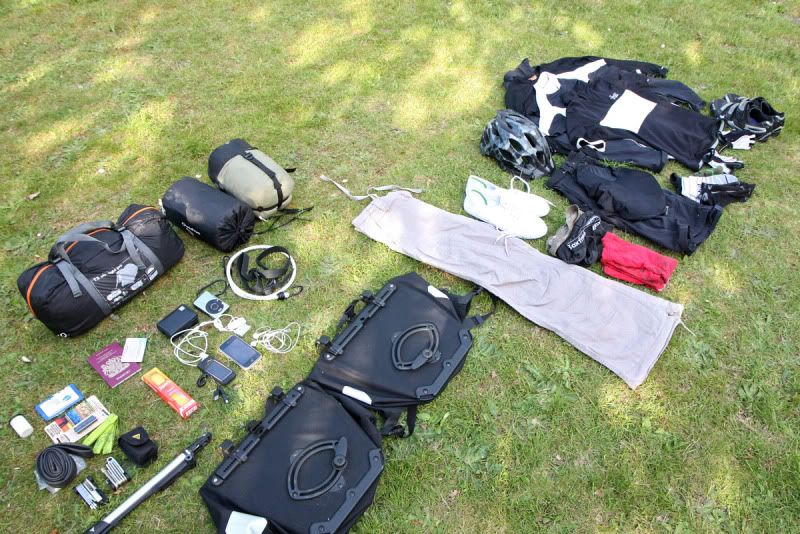 Quechua T3 Pro tent, Quechua roll Mat and sleeping bag.

Spare pads, tubes, tyre levers, Topeak Alien II 26 multi tool, emergency tyre boot patch, spare pads, udder cream, sporks, elastic cables, iphone, shuffles, camera and freeloader solar charger.

Gore Path II waterproof, Icebreaker 200 merino base layer, Gore motion III jersey, Shutt VR merino jersey & Endura Humvees with inner shorts, gloves, helmet & spd shoes. Beach tousers, light cheap primark shoes, merino Sugoi cycle socks, t-shirt and boxers.

Not on show is a Jetboil cooker (in the post), bog roll, maps (purchasing soon from http://www.stanfords.co.uk), bib tights (un-decided) and playing cards or cleaning stuff.
So any tips on what type of French roads are the most pleasant to ride, insurance, which I'm going to get this week and nourishment would be great oh and some re-assurance that this is possible
Oh and how easy are campsites to come by, should I be planning our route in more detail etc?
Thanks!