Forum home
›
Mountain biking forum
›
Your mountain bikes
Child's On-One Inbred - Now Finished!
Giraffoto
Posts: 2,078
This is a bike for my oldest boy, who's just turned seven. It's an ongoing project, so there will be updates, but here's the story so far: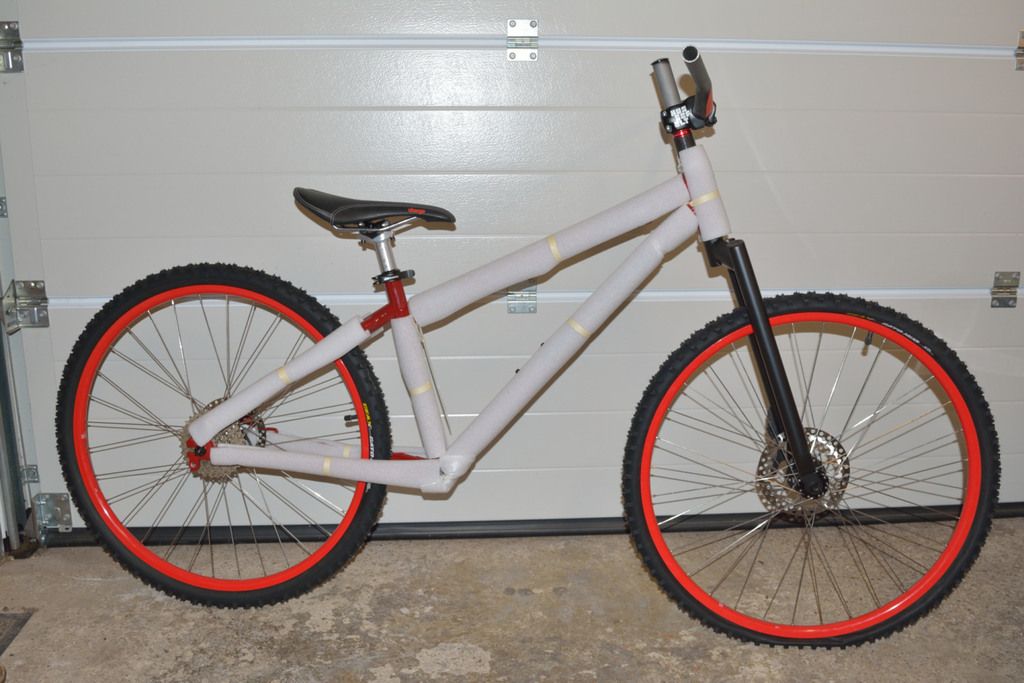 We're building it together - I supply tools, advice, and the occasional bit of extra strength, and he does the assembling. It's going to be more of a hybrid than MTB, but I'm guessing he'll be riding it more towards the end of the year - there's a teeny bit of growing still to do. There's also a teeny bit of building still to do, too. So what is it?
The frame is a 14" On-One Inbred 26er with slot dropouts. It's small enough, it's tough enough, and depending on what he gets into, it could be the basis for a singlespeed, hybrid, jump bike or full-on MTB. The fork is On-One Cr-Mo rigid steel, because at his weight, suspension is just extra weight to carry.
The wheels are the bright red articles off my old Specialized Hardrock - tough enough and red enough for anyone - with Geax Gato 26x1.7 tyres chosen for their low weight and rolling resistance. Brake rotors are 140 rear and 160 front, the cassette is 9-speed 11-32 and the skewers are the very best Shimano Deores.
The stem is a 50mm Hussefelt from my spares drawers, the saddle a Charge Spoon which was on my previous road bike, and the seatpost had to be cut down to fit in that tiny seat tube. The handlebar is temporary, just to make it easier to move around while we're working on it.
Still to come:
Transmission - gears, cranks and pedals
The definitive handlebars and grips
And of course, pumping up that front.
Specialized Roubaix Elite 2015
XM-057 rigid 29er