Forum home
›
Commuter cycling forum
›
Commuting chat
I apologise for the horrendous noise of my bike...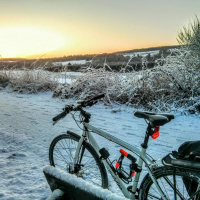 seajays
Posts: 330
After riding in really bad rain, today things are dry again, but my front wheel spokes have started making a horrendous twanging, pinging noise continually (although with no discernible "rhythm"). It sounds like I'm dragging a tin can behind me.
I felt the need to apologise to everyone that I overtook this morning for the embarrassing racket coming from my bike! :oops:
I'm assuming that something must be off with the tension of the spokes perhaps? There's no obvious visual issues (perhaps the suggestion of rust at the crossover points). Some things I've read appear to be around simply putting a drop of oil on the cross over points and hub eyelets, however I'm concerned this may simply mask a more fundamental problem?
I did a bit of a "guitar string" test on each side and there are definitely some that sound higher/lower pitched than others, but I'm not sure whether simply tightening/relaxing them to make them sound the same is the right thing to do.
Should I simply take to the LBS, or is there anything easy I can try? I have the wheel off in the office at the moment, and have multitool with spoke spanner thingy.
Cannondale CAADX Tiagra 2017
Revolution Courier Race Disc '14
My Strava