Forum home
›
Road cycling forum
›
Pro race
La Vuelta 2022 - Stage 21:- Las Rozas - Madrid. Paisaje de la Luz, 96.7km ***Spoilers***

blazing_saddles
Posts: 21,534
Stage 21:- Las Rozas - Madrid. Paisaje de la Luz, 96.7km
Sunday, September 11, 2022
Start time: 17:10CET.
Last year the race may have had a rare change of finale, with a time trial in Santiago de Compostela but this year the traditional format returns. The 3280.5km of racing comes to an end on a flat 96.7km through the streets of Madrid that is set to be a celebration for the GC riders and a final chance at a stage victory for the sprinters.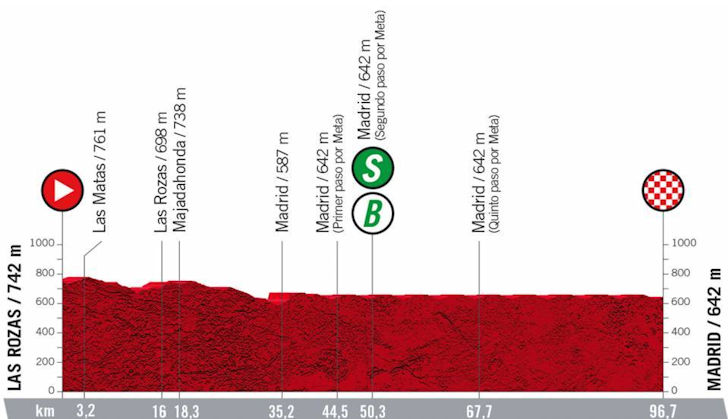 Starting in the municipality of Las Rozas the race winds its way around and passes right through central Madrid The riders pedal to the 5.8 kilometres circuit in the centre of Spain. Four times around Paseo del Prado, Paseo de Recoletos, Calle de Alcalá and the Gran Via feature prominently on the circuit before the race ends at the Plaza de Cibeles.
The intermediate sprint is located in Madrid at 50.3km into the final day of racing, presenting a final opportunity before the line.
Final Kms.
The final five kilometres may be flat, but there are multiple sharp turns. The last hairpin comes before the one kilometre to go mark, leaving just the mildest of veers to the right.

What to Expect.
The last stage in La Vuelta is as flat as can be. So a fast finishers showdown is next to certain.
Las Rozas
Population 96,113
Las Rozas is one of the Autonomous Community of Madrid's most-populated municipalities. Its cultural and economic importance has grown, hand-in-hand, with its commitment to sports. Besides having teams in a wide range of disciplines in all of the country's main categories, Las Rozas is known all over Spain as the home of the national soccer team. Whether male or female, all Spanish soccer has its epicentre in the Las Rozas sports complex.
Madrid. Paisaje de la Luz
Population 3,334,730
La Vuelta will, once again, reunite with its grand finale host, par excellence. 76 stages of La Vuelta have had finales in Madrid.
In 2021, we celebrated the Jacobean Year with a spectacular time trial ending in Santiago de Compostela. This year, however, we will take part in the City of Madrid's sporting festivities. Catalogued as the 2022 World Capital of Sport, it would be impossible to list all of Madrid's contributions to each sports category. One of them, however, is one of our favourite traditions: the final La Vuelta podium at the emblematic Cibeles Plaza.
Madrid is the second-largest city in the European Union (EU), and its monocentric metropolitan area is the second-largest in the EU. The municipality covers 604.3 km2 (233.3 sq mi) geographical area.
Madrid lies on the River Manzanares in the central part of the Iberian Peninsula.
Typical Foods In Madrid
Huevos Rotos
Traditional Spanish cuisine is very meat-and-potatoes. Nowhere is this fact more deliciously evident than in a steaming plate of huevos rotos, which literally translates to "broken eggs."
This typical Madrid dish is a plate of potatoes which are freshly fried in Spanish olive oil and tossed with sea salt. The potatoes are topped with perfect over-easy eggs. Depending on where you go, you'll either break the yolks with the edge of a crusty piece of bread or your server will break them, often at the table.
Bocadillo de Calamares
No trip to Madrid is complete without tasting the city's most famous sandwich: the bocadillo de calamares, or fried squid sandwich.
Mushrooms
Mushrooms are very popular in Madrid. Whether grilled, stuffed, or fried, you'll likely find them in one way or another on countless tapas bar menus throughout the city.
Cordero Asado
Succulent roast lamb is a popular option for many Madrid families for Christmas Eve dinner, and a perfect warming winter meal all season long. Like most of the best typical foods in Madrid, cordero asado is quite simple, and best enjoyed as part of an hours-long weekend lunch with family, friends, and plenty of wine.
"Science is a tool for cheaters". An anonymous French PE teacher.