Forum home
›
Road cycling forum
›
Pro race
La Vuelta 2022 - Stage 17: Aracena - Monasterio de Tentudía 162.3km ***Spoilers***

blazing_saddles
Posts: 21,604
Stage 17: Aracena - Monasterio de Tentudía 162.3km
Wednesday, September 7, 2022
Start time: 13:05CET
Stage 17 travels from Aracena and Monasterio de Tentudía. A day for the attackers is the most likely scenario on the 162.3 kilometres long route with a 10.3 kilometres climb to the line. The race is played out on the hot roads of Andalucía and Extremadura.The final week of the Vuelta is less overtly mountainous than the second but contains ample opportunity for ambushes.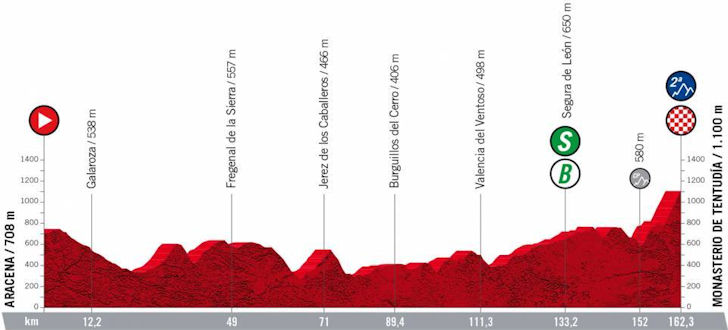 The two towns in the southern plains of the Extremadura region near the Portuguese border are barely 50km apart, but the route heads north and then back down on a loop of rugged terrain. It's the sort of constantly undulating stuff that doesn't throw up any major climbs but still accrues significant elevation, and just looking at the stage profile but you know it'll sap the legs. Also, this part of Spain is notorious for being extremely hot in summer.
The Climb:
The first 3 kilometres rise at almost 7% before it levels out and even descends for a bit. The dash for the top is a 4.1 kilometres dig at 7.4%.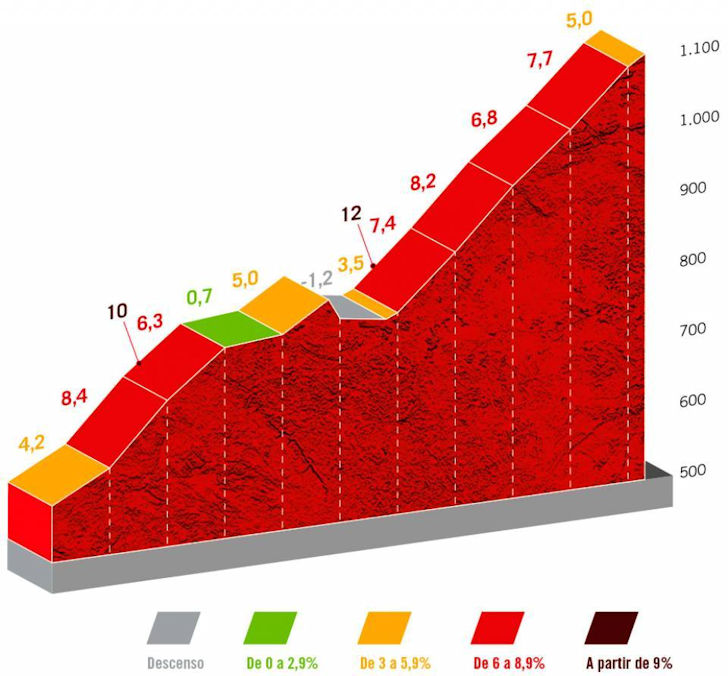 Final Kms.
Taken from base to finish, the ascent to the monastery is 10.3 kilometres long and averages 5%, but that includes a descent in the middle.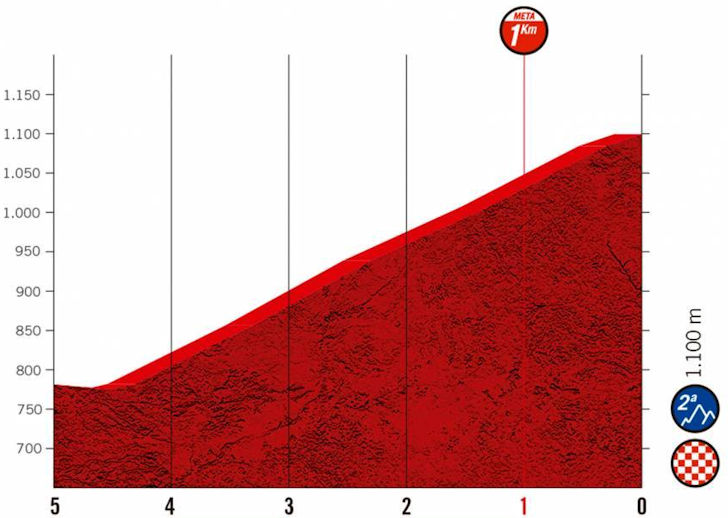 What to Expect.
On paper, this looks like fertile ground for a breakaway, as it's much too hard for the sprinters, but offers little reward to GC riders.
However, GC hopefuls will be also need to be very much on guard: just ask Chris Froome.
Aracena
Population 8,255
In 2022, Aracena celebrates a new La Vuelta milestone. With its departure from the Province of Huelva, La Vuelta 22 will be the first edition of the Spanish Grand Tour to visit the eight Andalusian provinces. The Aracena municipality, inhabited by humans since the 10th century as demonstrated by its iconic castle, has always coexisted harmoniously with its incomparable natural setting.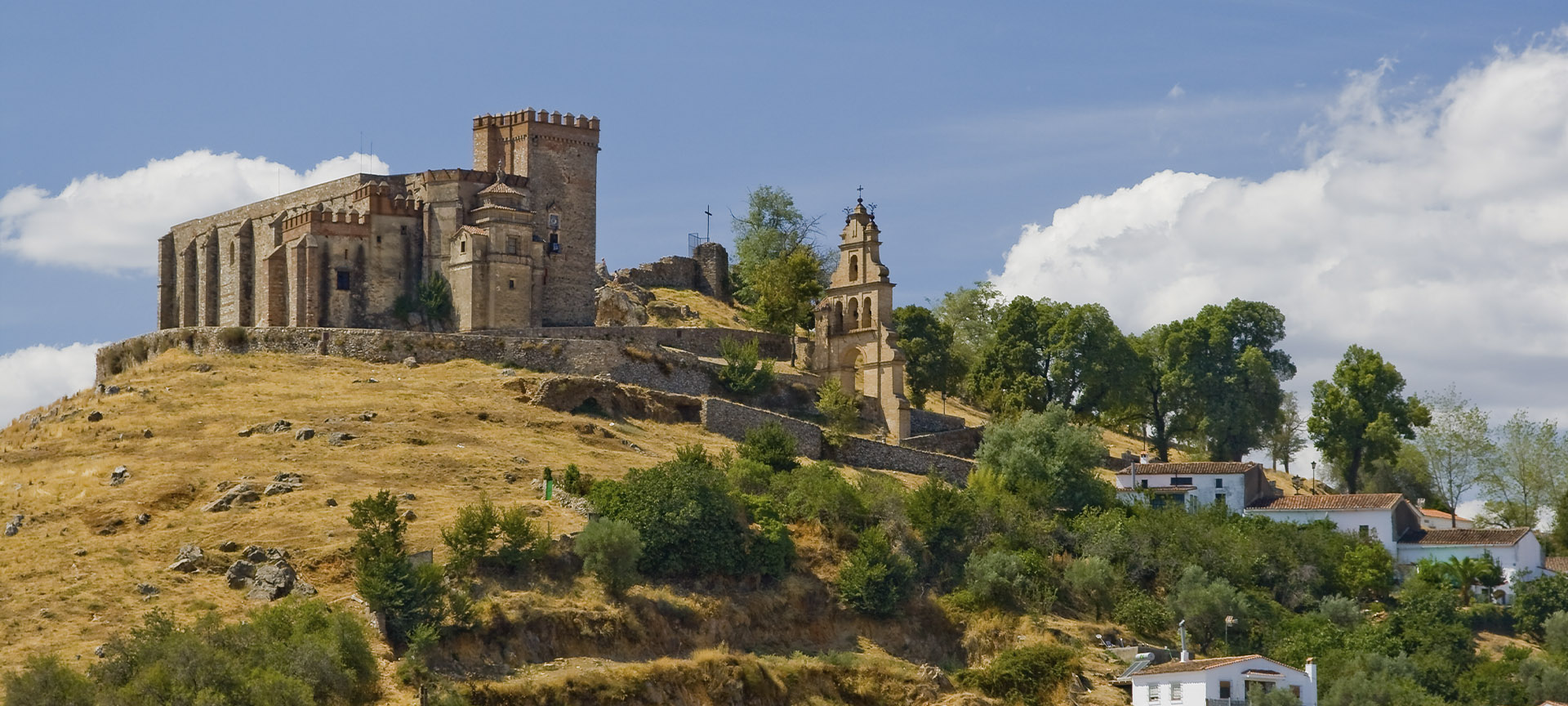 The Aracena Mountain Range Natural Park, where the city is located, possesses one of the country's richest biodiversities.
Aracena is your typical Andalucia village with its special attraction hidden underground. La Gruta de la Maravillas – or, Cave of Wonders – is subterranean complex stretches for around 2,130 metres. The network of limestone caverns is a natural underground monument with subterranean lakes, stalactites, stalagmites, and dripstone curtains.
Monasterio de Tentudía
Population 930
As part of La Vuelta's renewed love affair with Extremadura, the Spanish Grand Tour continues to discover new locations that make up the immeasurable treasure of its territory. This year, the race will have a finish-line at the Tentudía Monastery, the spot with the highest altitude within the Province of Badajoz. This religious centre, the birthplace of legends dating back to the peninsula's Muslim era, was built in the 13th century. Inside it, are such artistic jewels as its 16th century altarpiece.
Premium Tentudía monastery is produced by Bodegas Viña Extremadura, located in the town of Almendralejo (Badajoz). It is made with 50% Cabernet Sauvignon and 50% Syrah.
Ageing is 12 months in American oak barrels and the rest of aging in bottle
The food in Central Spain is an exotic blend of Muslim, Jewish and Christian traditions that are famed for producing a certain rustic style of cooking full of authentic Spanish flavors. There's plenty of great food on offer in Extremadura, of which the Iberian pig, goat, and lamb dominate the menus. The traditional Extremaduran cuisine is known for its simplicity and characterful flavors, for many of which are usually prepared in large pots.
Cochifritos
Cochifritos are a typical dish from Extremadura which involves lamb or goat meat perfectly cooked and fried with olive oil, garlic, basil, vinegar, bay leaves, rosemary, and spearmint. This rural delicacy can be best enjoyed hot.
Buñuelos
Buñuelos is a popular snack in Spain, often flavored with anise, evenly rolled and shaped into fine pieces or balls, then deep fried and finished off with a sweet topping or filling. These are quite similar to the fritters, often dusted with powdered sugar and make for a delightful evening snack.
"Science is a tool for cheaters". An anonymous French PE teacher.