Forum home
›
Road cycling forum
›
Road general
Not the fastest road bike ever... Cargo FTW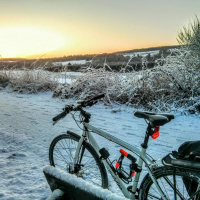 seajays
Posts: 331
So I finally took the plunge and bought a cargo bike (with electric assist!), for the supermarket shopping and other general things which need a bit bigger capacity - carrying tools etc!
It's actually great fun, although quite weird to get used to the steering of it (and it certainly has a quite wide turning circle), plus you
can't take corners fast
, as I have found out by ending up in the grass verge.
Most of my route is pretty flat and the electric pedal assist is great there - we have a quite steep hill near our house though, and even on full assist it still is quite a workout to get up there when loaded though.
It came "80% assembled - only takes 2-4 hours to complete". Two days later I had finally worked out where the dozens and dozens of different sized bolts went, and how to route the hydraulic brakes, as the four pieces of A4 assembly instructions left quite a bit to be desired. But got there in the end, and really pleased with it.
Cannondale CAADX Tiagra 2017
Revolution Courier Race Disc '14
My Strava