Forum home
›
Road cycling forum
›
CR2032 batteries without bitter/child deterent coating?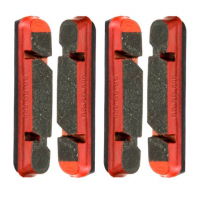 neeb
Posts: 4,463
So Wahoo state clearly that you shouldn't use CR2032 batteries with a "bitter/child deterent coating" in the TICKR:
https://support.wahoofitness.com/hc/en-us/articles/115000359464-I-m-Having-Trouble-with-My-TICKR-What-Can-I-Do-
My guess is that if this coating can be a problem for the TICKR it's probably not a good idea to use it in power meters either (or perhaps anything else..).
I tried to find CR2032s yesterday in several large supermarkets and they ALL now seem to have this coating, whatever the brand (Duracel, Energiser, etc). Also a search online shows that Panasonic (recommended previously by Wahoo) also now use this coating, as do Varta and other large brands.
It's possible to see batteries apparently without the coating (e.g. Panasonic) pictured for sale online, but it isn't stated that they lack the coating so my suspicion is that the picture is out-of-date and if you order you will be likely to receive the newer bitter-coated version anyway.
Anyone know a reliable source of non-coated CR2032s, ideally Panasonic or another good brand?
I've opened a support ticket with Wahoo about this but have yet to hear back.