Forum home
›
Road cycling forum
›
Workshop
26 v brake frame adapter to 700c wheel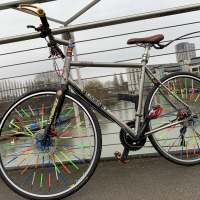 Micatropolis
Posts: 10
How are you all doing?

Has anyone seen the inexpensive adapters on eBay and the internet for this?,

A seller has suggested I try one despite it being advertised for a smaller frame.
I am aware the different is 33 millimetres between the two wheels and have seen some callipers that extend extra long to 45 millimetres to use a 700c wheel. And yes it does fit in the frame?,

Any help would be much appreciated as there are so many for disc but why not the other standard of brake??