Forum home
›
Road cycling forum
›
Your road bikes
Pinarello Dogma F8 rebuild (insurance right off)
ridgeway_swiss
Posts: 146
Managed to buy the remains of an F8 over the Winter. It had been damaged in a car accident (rear ended) although the frame had been professionally repaired. Some parts missing and most of it came in a bag...
So after some time, replacing parts and general tinkering...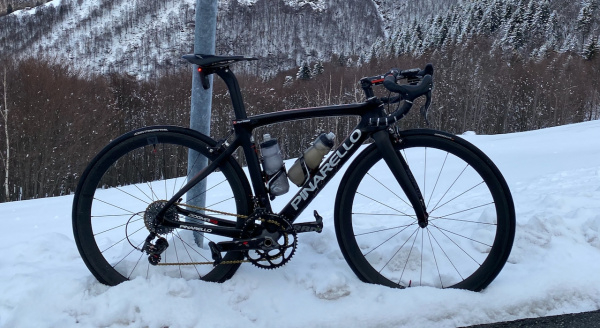 This was a few weeks back on an early shake down ride. Haven't ridden rim brakes for a while so needed a good descent to get used to them.
Frame: 51cm Dogma F8, now with a repaired LHS seat stay
Cables all replaced
Groupset: Campag SR 11spd
Added a 34 tooth cassette as i do like the hills
Added an Absolute Black 28t oval front ring (again for the climbs)
New KMC chain
New medium cage to cope with the 34 cassette, also added a Wolftooth road link
Wheels: Lightbicycle 46mm carbon with 25mm Conti 5000 TL
New Swisstop pads all round
The bike now comes in at 6.90kgs and is great for my hill rides, it's actually become my holiday bike as i'm less precious about it (has a few marks on it already) and it was sort of cheap....
Have to say it's certainly a pure race machine and perfect for me on rides of 2-5hrs, especially those with some decent climbs in.
Alpe di Neggia was a good example of a nice climb (first real outing) that this bike suits really well, it's about a 1300m climb.
Off on hols with the little pocket rocket at the weekend and hoping to take in the Mortirolo on the way back.