Forum home
›
Buy & sell
›
Classified cycling ads
›
Buy and sell bikes, bike parts and clothing
›
Second hand bikes for sale
SOLD Cannondale saeco team TI CAAD with mixed campagnolo groupset - needs work
pfw5867
Posts: 13
Hi all,
Selling my Cannondale saeco team TI CAAD with mixed campagnolo groupset, this was my winter bike until a couple of years ago, it has been in a dry garage since then unused. Bike was running ok when I last rode it apart from it needed the gears adjusting as it was jumping occasionally but the chain has since seized so it has been removed and i notice the rear shifter does not index anymore, it moves the rear mech into postion but no click, might just need cleaning and lubrication. Really don't know what this bike is worth but looks like the frame is quite desirable as far as old frames go. If it doesn't sell I will strip it and list for parts on ebay so I will say £300 for the bike.
Pedals and bag not included.
Frame is in lovely condition with very few marks and comes complete with carbon fibre forks and the originals which are mint.
Wheels are DT swiss with ambrosia hubs
Chainset is Campagnolo chourus - triple 53-42-30
Front mech - campagnolo 10 speed triple QS
Rear mech - Campagnolo race triple
Brakes - Campagnolo chorus
Shifters - Campagnolo Record ultra 10 speed.
I'll leave it on here for a couple of weeks and if no interest I will strip it, this has been a great bike and very reliable. Collection from Leek ST13 or close by if you want to meet up abiding to social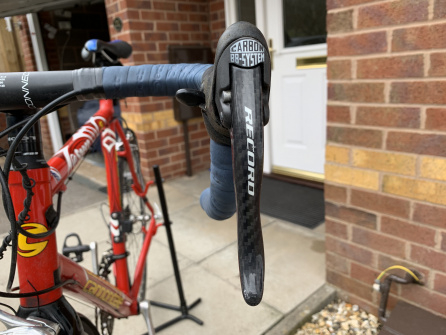 distancing rules