Forum home
›
Mountain biking forum
›
Rear Mudguard Designed for Swing Arm/ Full Suspension?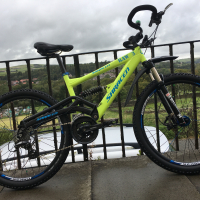 andyFuD_dXxN
Posts: 5
Hi evryone,
I've been looking at rear mudguards to fit on my Saracen Raw3 swing arm rather than using the seat post. I spotted
these
which look like they will fit my bike BUT I noticed two fitting points/ type thingies on both swing arms (see pics)
I wondered if these might be intended for mudguards. If so, where can I find mudguards compatible with this fitting? I've had a look and found none so I'm assuming I'm barking up the wrong tree.
Your help is appreciated, thanks in advance,
Andrew.