Forum home
›
Road cycling forum
›
The cake stop
Pizza dough

pangolin
Posts: 5,793
Couple of questions..
What are people's pizza dough recipes?
Can you make a decent gluten free pizza? Wife has been told by her Dr to try gf for a few weeks to rule it out.
I've been using the following recipe recently.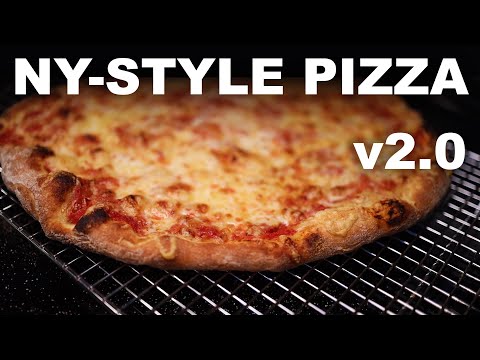 https://www.youtube.com/watch?v=SDpCzJw2xm4
For the dough
2 1/4 cups (530 ml) warm water
1 tbsp sugar (12 gl) sugar
1 tsp (3 gl) active dry yeast
2 tbsp (30 ml) olive oil
1 tbsp (18 gl) kosher salt
5 cups (600g) bread flour, plus more for working the dough
additional oil for greasing the dough
cornmeal, semolina flour, or coarse-ground whole wheat flour for dusting
For the sauce
1 28 oz (828 ml) can crushed tomatoes (I like Pastene 'Kitchen Ready')
2-4 tbsp (30-60 ml) olive oil
1 tsp (4g) sugar
2 tsp (a fraction of a gram, I don't know) dried oregano
For the cheese
24-32 oz (680-910 g) whole-milk, low-moisture mozzarella, freshly grated (6-8 oz / 170-225 g per pizza)
grated parmesan for dusting (maybe 10 g per pizza?)
Start the dough by combining the water, sugar and yeast in a large bowl and let sit for a few minutes. If the yeast goes foamy, it's alive and you're good to proceed (if it doesn't, it's dead and you need new yeast). Add the olive oil and salt and 5 cups (600g) of bread flour. Mix until just combined, then start kneading. Add just enough additional flour to keep the dough workable (i.e. not too sticky) and kneed until you can stretch some of the dough into a thin sheet without it tearing. (NOTE: You will probably need to add a lot more flour. The quantity I give here is just a base line to get your started.)
Divide the dough into four equal balls and put them in four containers (ideally glass) and lightly coat the balls and the interior of their containers with olive oil. Cover, and either rise at room temperature for two hours, or put them in the refrigerator and let them rise for 1-7 days. (I prefer the long, cold rise.)
When you want to bake, put a pizza stone or pizza steel into your oven (mine works best on a high rack position but every oven is different) and preheat to your highest possible temperature, ideally convection, for a full hour.
For the sauce, simply mix together the ingredients.
Liberally dust a pizza peel with cornmeal (or something similar). Take the cold dough out of the fridge and dust it in flour. Stretch to the widest size and shape that will fit on your peel and stone/steel. Top with just enough sauce to lightly coat the surface. Dust the sauce layer with parmesan, then cover with the mozzarella. Transfer the pizza to the stone/steel and bake until the crust is well-browned and the cheese has browned a bit (but, ideally, has not started oozing out an orange grease layer), 6-7 minutes.
- Genesis Croix de Fer
- Dolan Tuono