Forum home
›
Buy & sell
›
Classified cycling ads
›
Bikes and bike parts wanted
›
Parts
Frame locks 🔐 any good?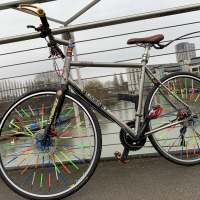 Micatropolis
Posts: 10
edited March 2020
in Parts
Hi new here, how is it going? I am a bicycle courier and was considering on cutting some time off my deliveries by investing in a horse show type frame lock that the Dutch apparently love so much which lock the back wheel up but came to the conclusion that even if you fitted it inside the rear seat stays and locked the wheel you would still be able to unscrew the lock 🔒 and still get the wheel out though the drop outs lock stock and barrel.
Any thoughts?, am I just better off carrying a secondary D lock for the wheel?