Forum home
›
Buy & sell
›
Classified cycling ads
›
Buy and sell bikes, bike parts and clothing
›
Bike parts for sale
›
Second hand road bike parts, tools and clothing
Ultegra 8070 Di2 hydraulic shifters and brakes, North Wave Flash winter shoes, Sora triple parts
maviczap
Posts: 37
Ultegra 8070 Di2 shifters & Ultegra hydraulic callipers
Due to a change in circumstances, I've stripped my disc bike down
These shifters & brakes have only done 119 miles according to Strava, and they are as new. I've drained the fluid out of the system. Comes with replacement olives & barbs for the rear caliper, you may want to replace the hose on the rear.
I have noticed in the photo the left shifter has a tiny graze on it, just so I'm being honest
Will split if necessary
£375 for the shifters
£80 for the callipers
£455 for both
Tracked postage included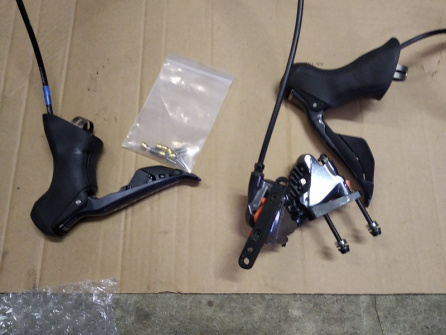 Northwave Flash TH winter shoes
Barely used, a bit too wide for my narrow feet. Insoles haven't been used when I've used them. I take a 44 normal shoe, and a 46 in Sidi cycling shoes. I filled the sole vents with clear silicon, which can be removed £60 posted
Shimano Sora 9 speed triple group parts
Shifters, triple chainset (50/39/30), front mech, rear mech, octolink BB.
Removed from a friends Scott, everything was working when removed but will need a clean
Shifters are scuffed on the tops, on the name badge from being leant on a wall
£30 posted