Forum home
›
Road cycling forum
›
Workshop
ORRO Terra C 105 R7000 Front Derailleur set-up
fauldzdogg
Posts: 8
I recently purchased an Orro Terra C and for the most part I am happy, however I am having some issues fine tuning the front derailleur.
It seems as though the front gear cable exit point (Above BB, between the rear wheel and chainstays) to braze on angle is causing an issue with the Shimano 105 R7000 front derailleur. I think the pictures illustrate far better than I could ever explain.
So far I have been to & fro with Orro, whom haven't been the most receptive or helpful.
"The hanger does look like it is orientated correctly. I can't say that this issue with the cable coming out of the guide is one that we have experienced before and so I'm unsure how much advice I can provide remotely.

Ideally I would have the bike in front of me so I can better understand what is happening. I will attempt to replicate the issue on a bike here and advise further once we have done some testing."
The last I heard from Orro was 09/12/19...
Cycle Republic however have been very responsive and quick to assist. Their advice was to try to adjust the braze on in such a way that the derailleur would not be aligned with the chainring (See the results of this in the pictures attached)
"Shifting should be fine. The gap at the top of the chainring is the key one (2mm). If the gap gets wider as the ring drops away to the left, that should be ok. Setup the mech with the correct gap at the top and then take a pic and I'll be able to see if its going to be ok or not. The R7000's are more fiddly to setup to older versions"
Basically I either:
A.) align up the derailleur mech nicely with the circumference of the chainring, which causes a bad angle for cable routing (as can be seen on the non-drive side), and results in the cable coming out of the guide.
B.) create a nice routing angle by adjusting the braze-on bracket, which throws off mech/cage alignment to the chainring in an awful way!
How should the derailleur mech edge align with the circumference of the chainring?
Has anyone else had such issues?
Can anyone see a way this can be remedied?
Click image links and open in a new tab to enlarge: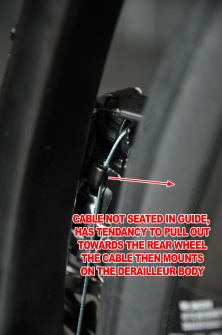 Please ignore my shitty screen name, it's 16 years old!!)