Forum home
›
Road cycling forum
›
Clearance for modern wider rims?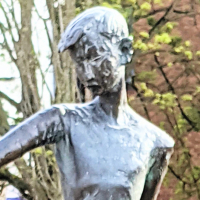 DeVlaeminck
Posts: 7,785
My frame is maybe 4-5 years old - it's a Neil Pryde Bura Sl.

Was thinking of buying a new bike but I love the Bura, happy with my fit on it, happy with the way it descends etc etc so thinking instead of spending 3-4k which could go on trips abroad and actually doing stuff just keeping it and getting some deep section carbon clinchers for it to replace the Fulcrum Zeros on it now.

Is there a chance some of the modern wide rims just wont fit the frame? Was looking at a mate's SystemSix last night and his wheels were huge - I know those wheels are designed with that bike in mind but as a rule of thumb is there external rim width beyond which it's best to check first ?

Part of the problem is Neil Pryde is no more so can't ask them. Obviously I could measure the gap between the chain stays but how little clearance is too little? Looking at spending 600-1k (second hand or new - in no rush now autumn is here) and want something minimum 40mm deep but probably more - road racing, fast group rides, usual stuff.
[Castle Donington Ladies FC - going up in '22]