Forum home
›
Road cycling forum
›
Pro race
Giro 2019, Stage 2: Bologna - Fucecchio - 205 km, Sunday, May 12th *Spoilers*

blazing_saddles
Posts: 20,520
Stage 2: Bologna - Fucecchio 205 kmSunday, May 12th

START TIME: 12.10 CEST

FINISH TIME: ~17.15 CEST
Stage 2 and the race leaves Bologna, heading south to finish in Fucecchio, while the distance will be 205 kilometres.
The stage traverses the Apennines but this one for the sprinters. Early on, the race reaches its highest point in La Serra at an elevation of 750 metres. This is an uncategorized climb of 17 km at 3%.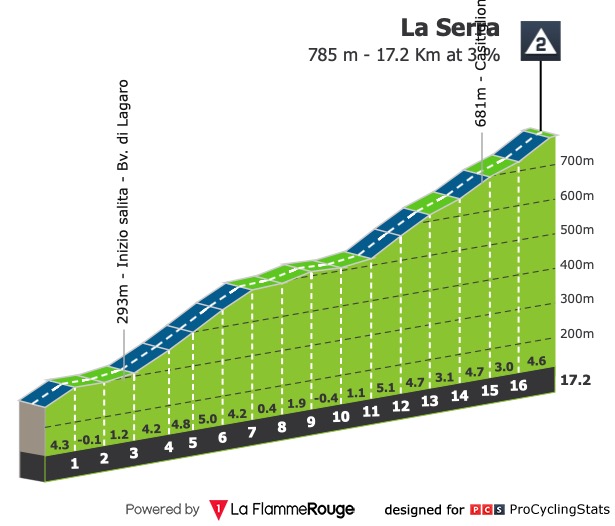 The two late climbs will encourage a bit of action for the final 50km as riders jostle for the mountains competition because win at Montalbano and you can hope to keep the jersey for several days.
The main climb of the day is the GPM of Montalbano, also known as Il Castra which is 5.8 km at 6.8%, with a central part of 4.5 km at 7.7%.
Importantly, the final kilometres, will be raced on undulating and twisting roads.
Final kilometres
The final 4 km start on narrow urban roads, with sharp bends, followed by broad, straight avenues, with a few roundabouts in-between. The home straight (900 m) is on 7 m wide asphalt road.
Favourites 2nd 2019 Giro d'Italia
*** Elia Viviani, Caleb Ewan
** Fernando Gaviria, Arnaud Démare
* Pascal Ackermann, Sacha Modolo, Giacomo Nizzolo, Davide Cimolai
FUCECCHIO
Fucecchio is in the province of Florence and has a population of twenty thousand inhabitants. The town's origins are closely tied to those of the Cadolingi, a powerful family from Pistoia. The town suffered terrible damaged from bombing during WWII.
PLACES OF INTEREST
The abbey church of San Salvatore, restored between the 16th and 18th centuries, and the fortress complex built by the Florentines in the 14th century both have medieval origins. Remarkable artistic and archaeological collections are preserved in the museum located in the Renaissance Corsini Palazzo, surrounded by a large park. Fucecchio is also the birthplace of the Italian journalist, essayist, historian and playwright, Indro Montanelli, who established a foundation here (Fondazione Montanelli Bassi) which houses documents, books, and numerous testimonies of his life and professional activity. Nearby is the Medici bridge in Cappiano (16th century), and the vast natural area of the Padule di Fucecchio with striking views of rare beauty.
GASTRONOMY
Here in Fucecchio, the famous Tuscan cuisine is well represented with many wild game dishes.
Typical carnival sweets are made with rice and sugar, while the Tuscan "Schiacciata" is a sweet bread produced for Easter*.
* "Simple" Schiacciata Toscana pictured.
"Science is a tool for cheaters". An anonymous French PE teacher.