Forum home
›
Road cycling forum
›
Pro race
Vuelta 2018, Stage 9: Talavera de la Reina > La Covatilla - 200,8 km *Spoilers*

blazing_saddles
Posts: 19,293
Talavera de la Reina > La Covatilla 02/09/2018 - Stage 9 - 200,8 km
Running from Talavera de la Reina to La Covatilla, the 9th stage of the Vuelta a España amounts to 200.8 kilometres. Two intermediate climbs and the last 24 kilometres run almost entirely uphill, while the last 7.9 kilometres to the line are averaging 8.5%.
Following a rolling section of 35 kilometres the riders arrive at the base of the Puerto del Pico, a 15.3 kilometres climb at 5.6%. A short descent before the route continues uphill, albeit gently.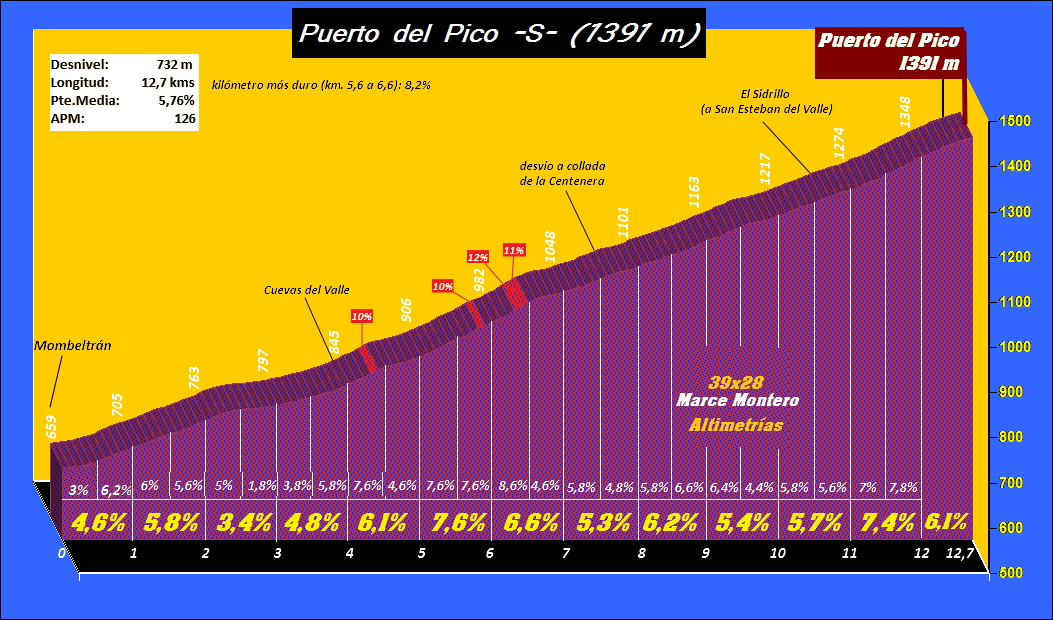 Puerto del Pico: The well preserved Calzada Romana (Roman Road), which was used for centuries as the only way of communication between the two plateaus (North and South) and was used as a passage of transportation for the Roman armies. Later, it became a cattle route, which is still in use.
A new rolling section leads to the base of the Puerto de Peña Negra, which is a 13 kilometres climb at 4.5%.
Almost halfway, time for a breather. The riders fly down the mountain for 15 kilometres and ride the plains south of Salamanca for tens of kilometres. So hardly any obstacles until the riders hit the last climb, up to La Covatilla.
The final climb is made up of two parts. With 24 kilometres remaining the riders tackle the first uphill. This 9 kilometres section slopes at 3%, which is perfect to stretch the legs – yet, the climb is very irregular, fluctuating between (false) flats and sections of 8%.
Following a short descent the actual last climb appears. The uphill to La Covatilla amounts to 12.5 kilometres with an average gradient of 6.5%, although that statistic is biased. The first 4.7 kilometres go up at 4%, while the rest of the climb is averaging 8.5% with a lot of double digit stretches. The riders tackle the last 10% ramp with the flamme rouge flying over their head before the climb flattens out. The last 900 metres rise at around 4%.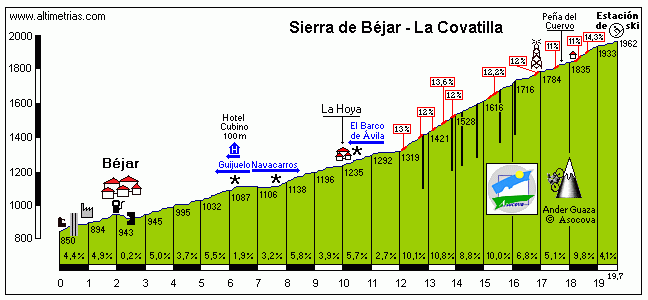 La Covatilla is a ski resort at an altitude of 1,962 metres. The place hosted La Vuelta on four occasions. The last finish was in 2011, when Dan Martin outsprinted Bauke Mollema on the line. A group of 26 riders – with among them Chris Froome and Bradley Wiggins – arrived within 1 minute of the winner. With his victory Martin followed in the footsteps of Danilo di Luca (2006), Félix Cárdenas (2004) and Santi Blanco (2002).
Favourites 9th stage 2018 Vuelta a España
*** Nairo Quintana, Steven Kruijswijk, Miguel Ángel López, Simon Yates
** Daniel Martin, Wilco Kelderman, Rigoberto Uran, Fabio Aru, George Bennett
* Enric Mas, Ilnur Zakarin, Emanuel Buchmann, Thibaut Pinot
The very nosy bit: team hotels.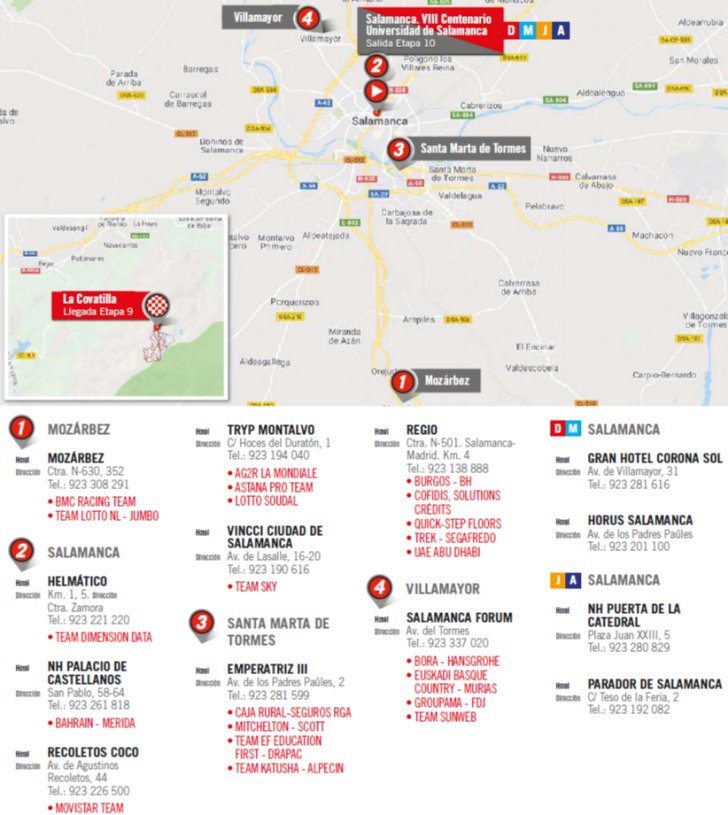 Talavera de la Reina
5 La Vuelta stages have departed from Talavera de la Reina
84,119 inhabitants
Toledo Province
The last time that Talavera de la Reina hosted a La Vuelta stage was in 2011, with a departure that then led the peloton towards San Lorenzo del Escorial. This stage was eventually won by Joaquim 'Purito' Rodríguez, who wore La Roja. Its privileged location, next to the Tajo River, has made this city a settlement for various cultures going back to prehistoric times: the Roman Empire, the Muslims and the Catholics have all had Talavera as a place of reference for its geographical location and its access to water.
Talavera de la Reina occupies a privileged place in Spain's West; it is a city with incredible potential. Its rich heritage makes people fall in love with it, as does its gastronomy and its festivities, some of which have been declared of National Touristic Interest, such as Las Mondas, which features the participation of around one hundred regional mayors.
But if there is one thing that is truly a Talaveran sign of identity, it is their ceramics. Talavera is truly becoming an open-air museum thanks to a route of large murals that show visitors its history and its customs. Its ceramics are all over the city and are worth seeing, such as what is found in the Basilica of Our Lady of Prado, known as the "Sistine Chapel of Ceramics".
Talavera can be visited at any time of year. Its Holy Week has been declared of Regional Touristic Interest, the San Isidro Fair and that of San Mateo attract thousands of people to its fairground, and the International Jazz Festival is held at the end of July in open-air locations all throughout the city.
These are just some examples of what you can discover in the City of Ceramics, that opens up to all visitors who wish to know its booming old city centre, where the city walls offer, without a doubt, spectacular views of Talavera de la Reina and its patrimonial and cultural legacy.
La Covatilla
4 La Vuelta stages have had finales in La Covatilla
Salamanca Province
Santi Blanco, Félix Cárdenas, Danilo di Lucca and Dan Martin are some of the riders who have added Alto de la Covatilla to their list of achievements over the past 15 years. This special category climb will be tackled for the fifth time during La Vuelta. The peloton will have to cross the ever-challenging Béjar Mountain Range, the birthplace of such riders as Lale Cubino, Roberto Heras and even Santi Blanco, himself.
Béjar's monumental, natural and gastronomic heritage is a treasure worth discovering. Located 72 km from Salamanca, Béjar allows you to discover the Renaissance Town of El Bosque, a 16th century complex whose garden has been declared an Asset of Cultural Interest. Highlights among its other monuments include the Ducal Palace, also from the 16th century, the 11th century Medieval city walls and the oldest bullring in the world, which dates back to 1711.
Béjar has numerous mountain routes through chestnut and oak forests, which are a delight to the senses, that can be completed both on foot and on mountain bikes. If you visit in Spring, in the Corpus Christy festivity (declared of National Touristic Interest), you can attend the original procession of the Moss Men, who walk wearing outfits made entirely of moss. Midway through July, Béjar becomes the Blues capital of Spain with its International Festival. The Día del Calderillo, a typical local dish, is held on the first Sunday in August. All of this takes place in an unparalleled natural setting, catalogued as a Biosphere Reserve.
"Science is a tool for cheaters". An anonymous French PE teacher.