Forum home
›
Road cycling forum
›
Road general
smaller pitch chain systems?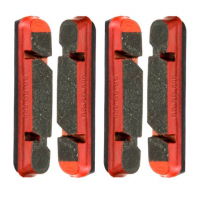 neeb
Posts: 4,467
So Campagnolo have brought out 12 speed and completely undermined the whole point of it IMO by only offering 11-29 cassettes, so in terms of actual commonly usable gears (if you are currently happy with, say, 12-27 or 12-25) it is in fact a downgrade from 11 speed to 10 speed or even 9 speed, with bigger rather than smaller gaps between the cogs... Duh..

Maybe I'm unusual but I like cog gaps to be as small as possible across the range and even find 1 tooth gaps a bit big sometimes (i.e. I sometimes feel I would prefer a gear between two cogs that are only one tooth apart).

So rather than add more giant cogs for those oh-so-common 20km climbs at 25% average gradient I would rather that some thought went into smaller gear gaps. The only way to go smaller than one tooth is to reduce the size of the teeth and use a smaller pitch chain. Despite all of the supposed advances in cycling tech in recent years (at least half of which are pretty pointless) we are still using the same 1/2 inch chain pitch that's been around since god knows when. I assume that smaller pitch chainrings, cassettes and chains could be fitted to current 11 speed drive trains if they were available?

Personally, this would be of much more benefit to my all-round cycling experience than disc brakes, tubeless tyres, 1x and (I despair..) clucth rear mechs.

And before they think of commenting, hipster single-speed fans can just... not.