Forum home
›
Road cycling forum
›
Pro race
Pedaleur de Répulsion

No_Ta_Doctor
Posts: 11,191
As the opposite of the Pedaleur de Charme award (which is for aesthetically pleasing cyclists - those with fluid strokes, low backs and a soupçon of souplesse - it's not about triers, or bravery, or attacking panache) I'd like to open the nominations for Pedaleur de Répulsion. These are the cyclists that are an affront to the aesthetics of the sport. Not because they're born ugly, but because everything they do on a bike just looks wrong. You can have a face only a mother could love and still win the Charme award, and you could have the cheekbones for a cover appearance on a fashion mag and still win the the Répulsion award.
My opening nomination is for Aru, who is a disgrace to the Italian national champions jersey. I don't care that his face would be improved by hitting it with a spade, it's he way he rides that disgusts me. I honestly can't bear to see him in the red, white and green.
Lets face it, when it comes to cycling aesthetics the Italians win hands down. If an Italian can't rock his jersey like this:
Or this: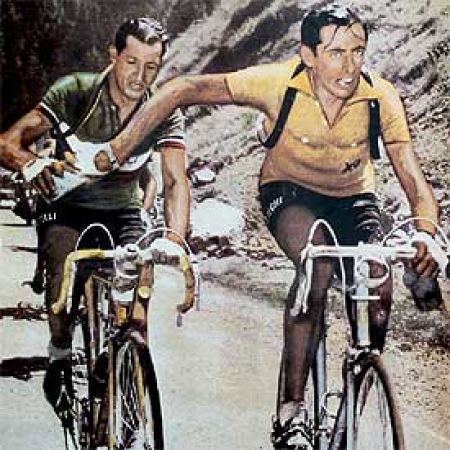 Or this:
then they should give up and go home.
"Road racing was over and the UCI had banned my riding positions on the track, so it was like 'Jings, crivvens, help ma Boab, what do I do now? I know, I'll go away and be depressed for 10 years'."
@DrHeadgear
The Vikings are coming!