Forum home
›
Road cycling forum
›
Road general
Ultegra front mech close to rear tyre - normal?
luv2ride
Posts: 2,367
Just got a new bike advertised as being to take larger volume tyres (28-30mm). It's fitted with an Ultegra front mech (but non-series chainset, allegedly as the Ultegra chainset has 4mm less q factor, and may result in shoes fouling the chainstay). OE tyres are 28mm Durano's. I've noticed that, when in the big ring, the top of the front mech arm sits
very
close to the rear tyre: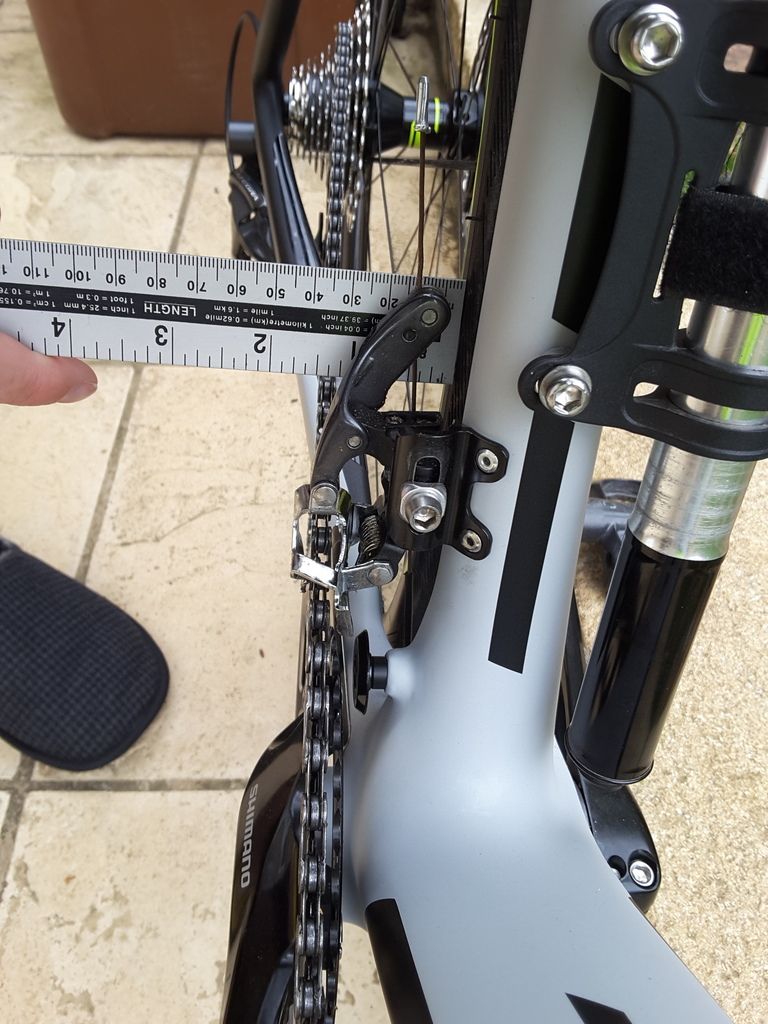 The grub screw/bolt for the gear cable is only 5mm away from the widest point of the tyre wall. All my other bikes are Sram (Apex, Rival and Force, all 10 speed) and I see that their FD design has a much shorter arm, so fouling tyres isn't an issue in the slightest - in fact I have 38mm Hyper Voyagers on one bike running Rival.
Is it normal for the mech to sit so close to the tyre? I was hoping to (possibly) go up to 32mm tyres as the frame has the clearance, but also plan to upgrade the crankset to either Ultegra 6800 or perhaps Praxis Works. My concern is that with 2mm extra tyre width (one side), and 2 mm less q factor the same side, the culminating reduction in FD clearance may mean only 1mm between that and the tyre wall. Having not ever experienced this limitation with SRAM, I'm struggling to see why Shimano haven't designed out this potential compromise in their equipment, epecially given the burgeoning popularity with gravel riding with bigger volume tyres. Maybe this explains the rise of 1x in those circles?
Anyway, has anyone else experienced this? Cheers
P.s. I'd concede that front shifting seems better than any of my Sram set ups, possibly as a function of the longer arm in the mech, but I'm still surprised if improved shifting comes at the price of limiting tyre choice to such a large degree...
Titus Silk Road Ti rigid 29er - Scott Solace 10 disc - Kinesis Crosslight Pro6 disc - Scott CR1 SL - Pinnacle Arkose X 650b - Pinnacle Arkose singlespeed - Specialized Singlecross...& an Ernie Ball Musicman Stingray 4 string...