Forum home
›
Mountain biking forum
›
Your mountain bikes
2013 Ibis Mojo SLR
twonks
Posts: 554
Been a while since I posted here and as I'm thoroughly enjoying this new (to me) frame, thought i'd share the build.
The basic idea behind the purchase was to improve on my 2007 SC Superlight (120mm forks) which rides brilliantly but occasionally gets out of its depth down rocky ish trails where it feels a bit flexy. After one ride on the Mojo it was clear that I've got 95% of where I want it to be.
It can be ran with 27.5 wheels and this is one of the reasons I got the forks to allow for a wheel upgrade, but it rides so well as is I don't think I'll bother.
It handles very well indeed and is only 1lb heavier than the SC, depsite the rather chunky forks.
Not the best pic. Have been too busy riding it not taking pictures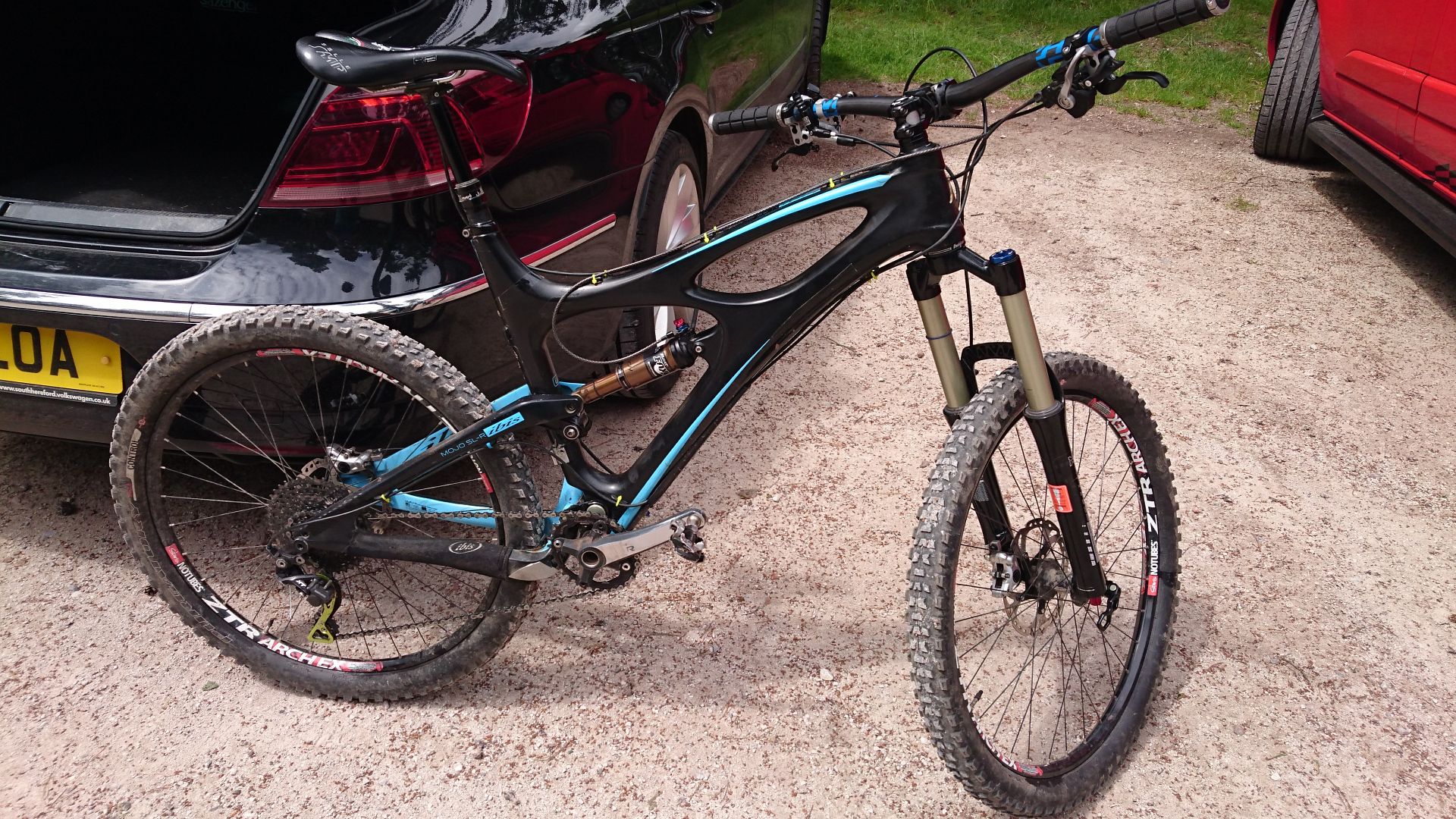 Frame: 2013 Ibis Mojo SLR
Forks: X-Fusion Sweep 27.5. Set to 150mm (Billy bargain at £170 from CRC)
Bars: Easton Haven carbon 720mm
Stem: Thomson 70mm
Headset: Hope
Grips: Lizard skins lock on
Bar Ends: none
Front Brake Lever assy: Shimano XT 785
Front Caliper: Shimano XT 785
Front disc: 180mm Shimano
Rear Brake Lever assy: Shimano XT 785
Rear Caliper: Shimano XT 785
Rear Disc: 160mm Shimano
Hoses: Shimano XT 785
Shifters: XT 10sp
Cables: Shimano
Front Mech: none
Rear Mech: XT 10sp
Chain Device: none
Seat: Selle SMP Hell (looks odd, rides comfy)
Seat Post: RS reverb 100mm
Seat Post Clamp: Ibis
Cranks: XTR M970
Chainring(s): Absolute black 32t oval
Chain: Sram something
Cassette: Sun race 11-42
Pedals: XT spd
Bottom Bracket: Hope ceramic
Front Wheel: 26"
Rim: Stans Arch EX
Spokes: ?
Hub: Hope pro 2 evo
Tube: less
Tire: Specialize Purgatory
Back Wheel: 26"
Rim: Stans Arch EX
Spokes: ?
Hub: Hope pro 2 evo
Tube: less
Tire: Purgatory
Weight: 27lb
Other info: Not entirely happy with the adjustment thing for the rear shock. Neve use it in anything than Trail mode. Want to remove the cable and go to a more normal lever to clean up the bars and remove an unsightly thing.
May also upgrade the brakes to Zee / Saint and go to 1x11 when Shimano get the big cassette out.