Forum home
›
Road cycling forum
›
Your road bikes
Giving drop bars a go - Whyte Cornwall
apreading
Posts: 4,535
OK - so after literally years of arguing with people telling me that drop bars would be better than my flat bar road bike (a.k.a. hybrid) with bar ends, I was forced into getting a new bike due to a car twisting my old bike into scrap metal. I will almost certainly be getting another hybrid for commuting duties but was pondering if it was about time I really found out if drop bars can work for me. In a fit of madness, my LBS had a 'club night' with 20% off anything so I bought a Whyte Cambridge. With 105 hydraulic discs and lots of practical features, a thru axle front and carbon frame - I figured if there was a road bike for me then this was probably it.
Here it is with my new Pro-Lite Revo disc wheels (a bargain from Wiggle):
Currently fitted with guards and a rack because I wanted it to be possible to use as a commuter but they will likely be removed for the summer and the bike kept for 'best'. As the Whyte mudguards are supposed to be fiddly to fit, I got the LBS to do it as they did it for free and they wanted to do the rack at the same time so that everything was measured to fit.
Unfortunately, due to a broken collarbone from the accident, I am still a few weeks away from being able to ride properly so have only pootled up and down outside my house so far.
Not sure the bar position or lever position is quite right for me at the moment - is this something that normally needs tweaking? Feels like my weight is pushing against the bulbous part on the top of the drops, rather than against the body of the drops (as though if the bulbous part wasnt there they would slide off the ends). Thinking maybe the bars need to be a little lower or tilted back a little or maybe the levers moved up a little on the bars. When I can ride it properly I will take it back to LBS and discuss.
Its the first bike I have seen which doesnt allow me to use my bike stands though: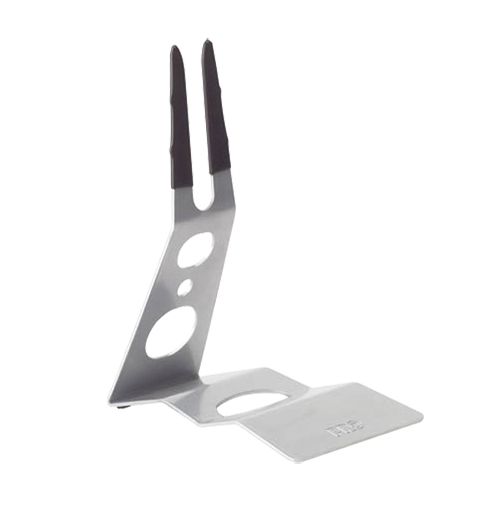 there just isnt room around the caliper to slot the axle in. So will have to look for another stand that works a different way somehow - I guess something like this:
http://www.wiggle.co.uk/topeak-lineup-bike-stand/