Forum home
›
Road cycling forum
›
Road general
University of Kent 24hr Cyclothon - The Brain Tumour Charity

codfather
Posts: 359
Apologies if this seems a bit spammy, admin please feel free to delete if it does not comply with rules/is in the wrong section.
We (University of Kent Cycling Club) will soon be undertaking a 24 hour "Cyclothon" in order to raise awareness of, and funds for The Brain Tumour Charity. TBTC are an invaluable support network for those diagnosed with brain tumours and their families, but unlike some larger charities, they often go unnoticed and their funding is considerably lower. We will be getting rolling at 8am on Wednesday 2nd December outside the campus shop and using our committee, members and any passers by attempting to cover 1500km in the allotted time.
If you can support us in any way, we would be eternally grateful, as would all at The Brain Tumour Charity. Donations can be made by texting UKCC99 £1 to 70070 or on our JustGiving page here:
https://www.justgiving.com/KentCyclingCyclothon
Of course, if you're local to us and have the time to spare on the day, we'd love it if you came down to say hello and even pitched in a few miles to help us.
If you'd like to talk to us about this or monitor our progress, please head over to our Facebook page here:
https://www.facebook.com/UniversityOfKentCyclingClub/
Thank you for your time and stay safe.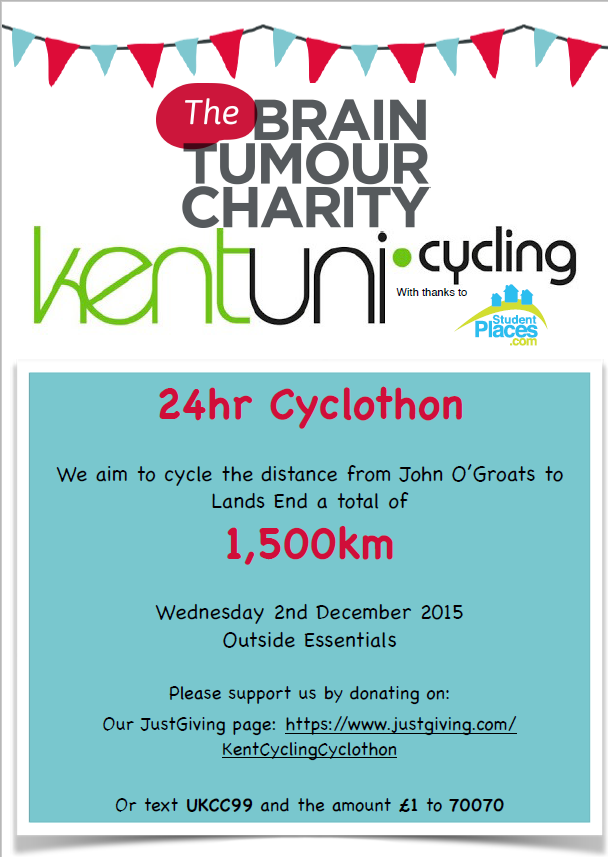 Current fleet
2015 Transition Scout
2012 Nukeproof Scalp
2016 Genesis Latitude
2012 Transition Double
2012 Transition Trail or Park

2006 Trek SL1000
2017 Fly Proton
???? Create Polo Bike