Forum home
›
Mountain biking forum
›
Your mountain bikes
Trek Procaliber 9.8 SL
BloggingFit
Posts: 919
This Carbon beast caught my eye earlier in the year when it's release was announced and after toying with the idea of road bikes and CX bikes I decided the Procaliber would be my choice for Winter riding between road and more hardy trails as well as a commuter once the weather picks up next year. My criteria were essentially for the frame to be Carbon and the wheel size 29".
I looked into Canyon as the quality of spec for the money is hard to ignore but the frames are mediocre and the shipping times unpredictable at best. The Superfly was the other main contender and would have been my choice if the wait on the Procaliber was too long. The attraction of the Procaliber is in the frame with a flexible internal cable routing system and the Iso Speed decoupled taken from the Domaine road bike which gives 11mm of give or cushioning in the frame to help eliminate trail buzz, aiding comfort and reducing fatigue. For the type of riding I am looking to do wi the bike this seemed like a good investment but it doesn't come cheap. Fortunately I got mine at a cost similar to the Canyon option I had looked at so it was a no brainer.
I was also fortunate enough to get the 9.8 version in Matt Black which isn't openly advertised for the UK market as an option to the Trek Baby Blue racing colours.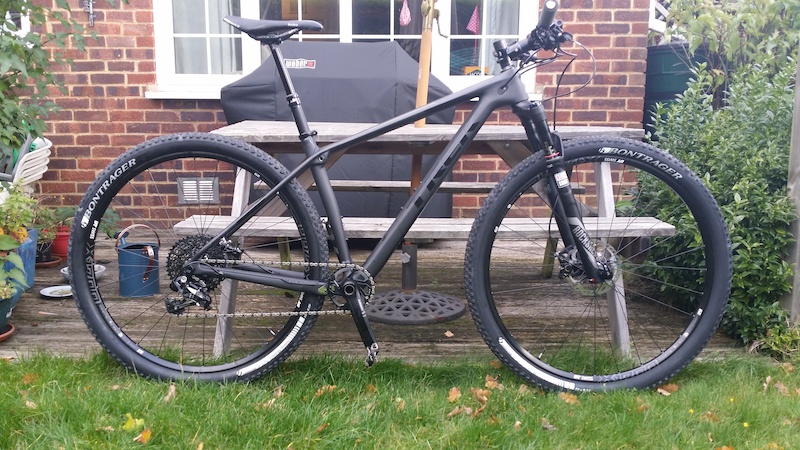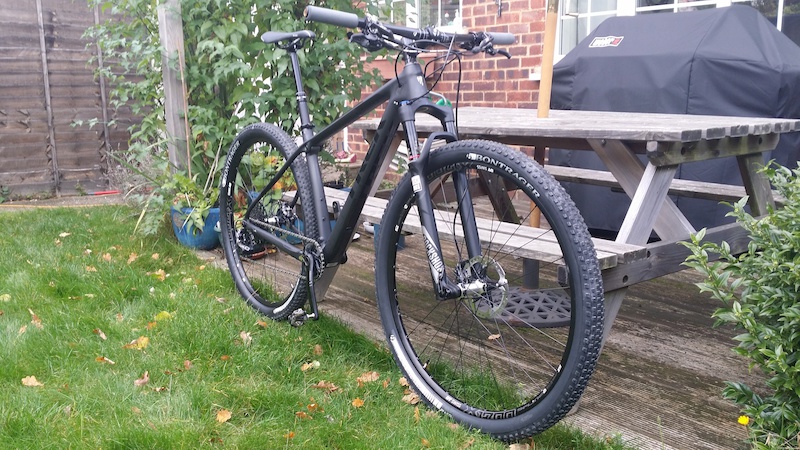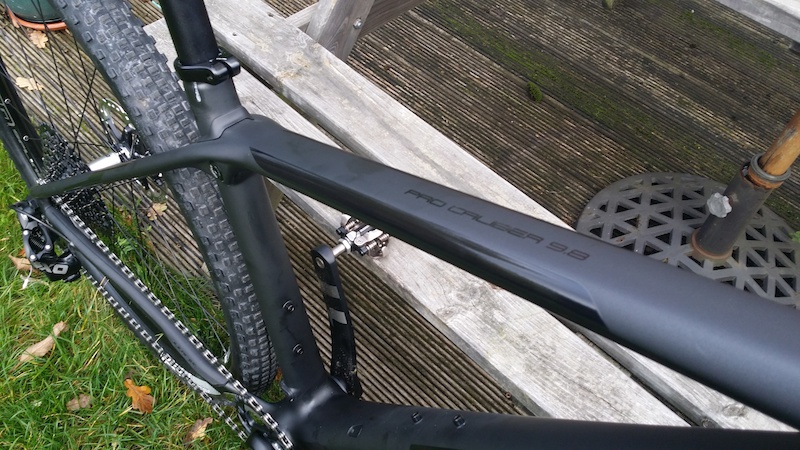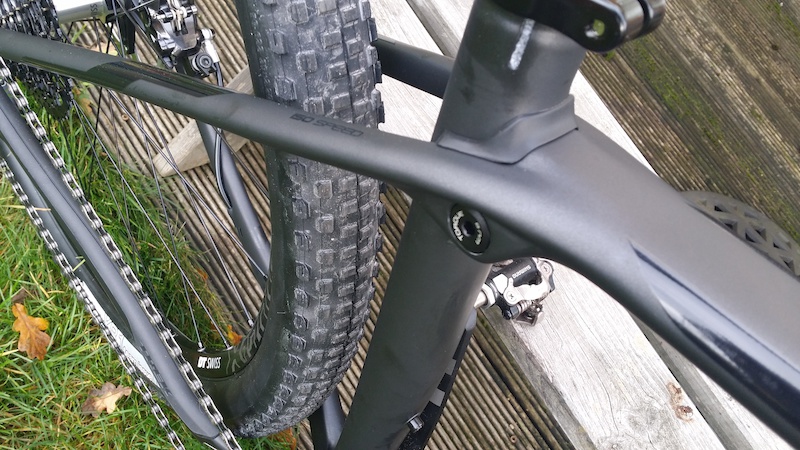 Spec wise is fairly decent off the shelf. SRAM X1 Drive train which shifts very well and runs very quietly. Brakes are the M8000 XT versions which are fantastic from my experience on the Aeris and I was pleased these got put on rather than last years XT brakes which some of the first 2016 bikes ended up with. Wheels are DTSwiss 1700 with Bontrager XR1 Team Issue Tyres which are truly an XC tyre and had me worried about riding on anything other than hardpack. The Fork is a Rockshox SID RL which is completely new to me with the remote lever being something I wasn't overly keen on having. Everything else is from Bontrager and the only change form stock is fitting a Reverb Stealth Dropper and running one of my Bontrager Carbon saddles.
Weight wise these come in just over 10kg stock so I imagine with pedals and Reverb it's closer to 11kg.
After getting the Reverb installed, doing a tubeless conversion and having to straighten up a bent mech hangar (thanks goes to Ben at Bird for some workshop and vice usage), I got out for a first ride on it today. Rather than taking it over Swinley, which would be fairly obvious as to how it would perform, I figured the mud and slop of Deepcut and Tunnel Hill MoD would be a far better option to suss the bike out.
So let's get the obvious stuff performance wise out of the way first. This bike is fast. Show it anything smooth and flat and it goes with instant drive forwards with each pedal stroke. There is no wasted energy here. Climbing is excellent.
The less obvious stuff let me with three big things that surprised me; this bike can descend pretty well, the XC tyres grip very well, even in mud and loose conditions, and this bike is really fun to ride. Technical single track is fun with the bike very precise to riding input and no cumbersome feeling that 29ers are meant to exhibit. Going downhill it really picks up speed. The SID fork may only run 100mm travel but it it felt like there was more travel available and running out was not something I constantly worrying about.
So what of the Iso Speed Decoupler? Does it work? Yes, it does but not in an obvious way. These is a subtle reduction of trail buzz certainly and you may notice a slight soft sensation in the rear if you stamp down hard on the pedals while seated. It will probably bed in a little more after a few more rides so will so it I notice it more.
Overall I'm really impressed and slightly surprised with how capable this bike is for an XC racer as well as being fun to ride rather than being a bit surgical and boring.
Bird Aeris : Trek Remedy 9.9 29er : Trek Procaliber 9.8 SL