Forum home
›
Mountain biking forum
›
Your mountain bikes
Boardman Pro FS 650B review
Joebristol
Posts: 326
Hi there, I'm still relatively new to the forum and I've recently got a new bike - which I couldn't find much opinion on when browsing forums. So I thought I'd just put down my experience with Halfords / what the bike has been like so far.
Context is that I used to be really into mountain biking when I was younger (maybe gave up when I was about 23/24), but since about March I've really got back into it (I'm not 34).
Back in the day I had a Gary Fisher Mamba, a GT LTS and a Univega RAM 990. Before getting the Boardman I was riding a '98 Kona U'Hu which I bought from ebay to see if I could get the bug again. Kona is an old school URT type bike - although it looks like a 4 bar linkage one. Nevertheless, the crank is placed on the swingarm, so it isn't very active when you stand up, only when you sit down. Genius design.
So the Boardman:
From Halfords it shoudl be £1599.99, but due to some unexpected generosity from my local Halfords they let me have it for my £1000 bike to work voucher! This was because I'd ordered a Team FS 650B (which is £999.99) but they were out of stock at head office and lost the one they were trying to courier from another store. Result.
So it's a trail bike, perhaps with a slight XC slant rather than more freeride orientated. It has 130mm travel at both ends - fork is a RS Revelation with adjustable rebound damping, air spring and a 3 stage compression / lock out lever. Damping system is motion control as far as I'm aware. At the back there is a RS Monarch with lockout and adjustable rebound damping / air spring.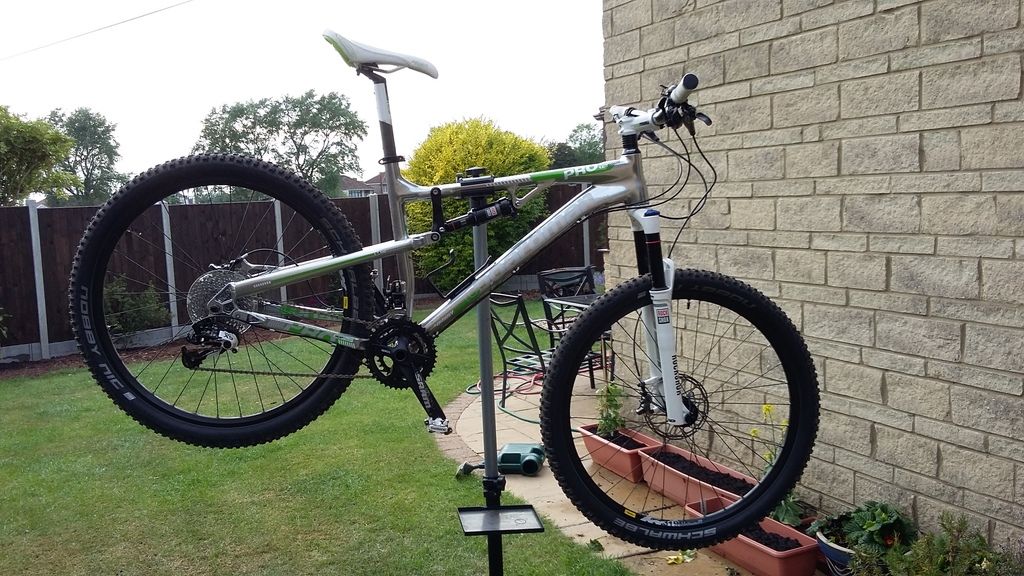 I'd read a few bad things about Halfords service, but they were excellent in this case - they kept in contact with me regularly and from the point I ordered the bike it took a week to get it in and ready to collect. This despite them losing the Team FS mentioned above.
Initial thoughts were great, until halfway through the first ride I snapped the chain. It snapped at the joining link and it vanished into the undergrowth. However I popped back to Halfords and they gave me a new chain - in itself an upgrade to a SRAM one as they didn't have the standard joining links in stock. Again a thumbs up from me.
I've not had SRAM shifters on an MTB before - finding them really good so far. The Elixer 7 trail brakes (with 4 pot calipers) have also been excellent. Touch wood they are silent, progressive and have plenty of power. I've not faded them out at all yet and they are much better than the Elixers I had on a hire bike in Spain a couple of weeks ago which felt horrible and sounded horrible (bike was a Felt Virtue 40).
The suspension seems very plush so far - I've tinkered with the air pressures initially to setup the sag (went for 25mm initially), then adjusted the damping to match. On subsequent rides I decided perhaps the suspension could be a bit softer as I wasn't getting full travel. I feel it's now perfect - a recent ride at Swinley Forest was a blast, and I'm off to Cwmcarn this weekend weather allowing.
I don't plan to make any upgrades really at the moment as everything so far is great - apart from maybe the tyres. On wet hard packed trails (Like Leigh Woods in Bristol) I may as well be cycling on ice. However on most dry surfaces the Nobby Nics have been ok. They do seem more suited to natural trail surfaces though.
I have ordered a dropper post which I'm hoping will arrive before this weekend - an RSP Plummet - which was on offer at Tredz for £59.99. With free delivery and an additional £5 off it was too good a bargain to miss. I'm collecting a seatpost shim today, so hope to have it all ready for Sunday's CC trip.
I'll post photos in another post below via my phone, as that's where I have the photos.
Bad points:
So far I've had a couple of creaks / squeaks - the first one was bizarrely the rear hub. I took the bolt through quick release skewer out and greased it which solved that problem. THen I had a creak on pedalling hard - this was both with the suspension active, and with the lockout. Tracked it down to either the BB or the cranks I think. Planning to take the cranks off, check the BB torque is correct, then reassemble it with copper slip grease.